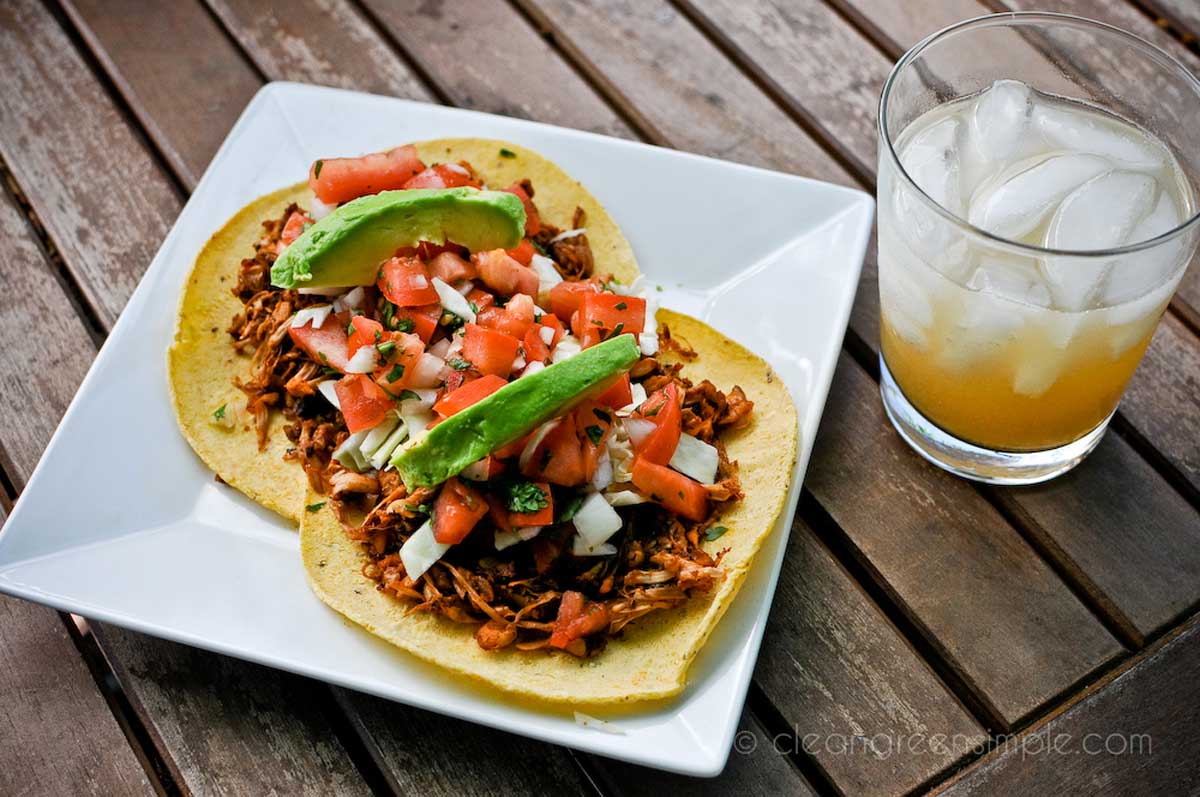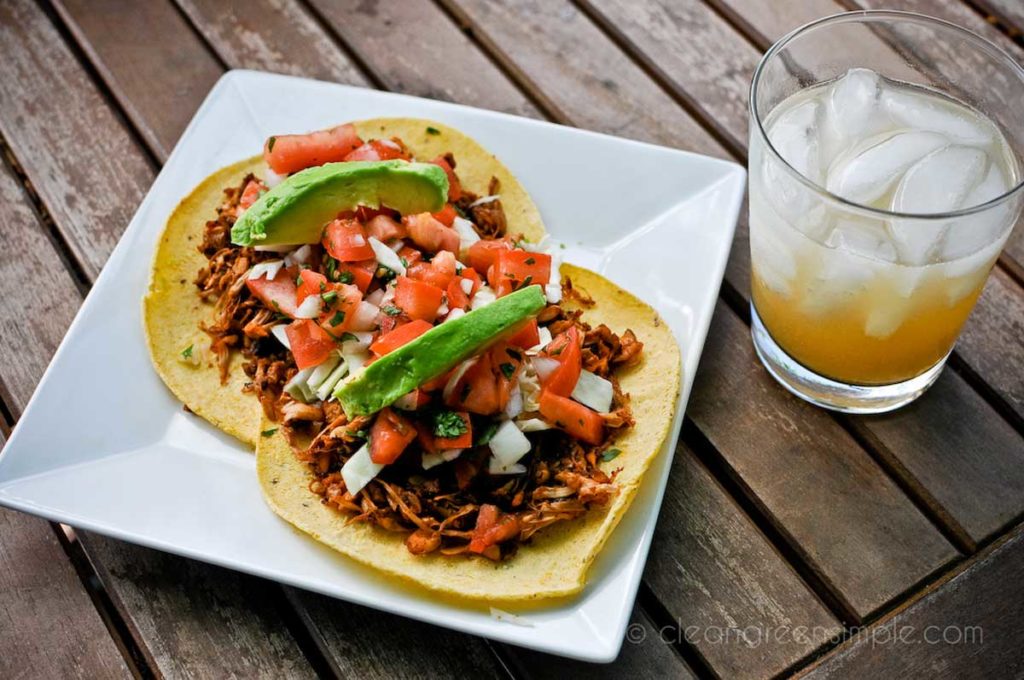 After last week's jackfruit pulled pork post, which was inspired by a recipe at Pure Luck (an LA vegan restaurant that is, sadly, closing) I decided to take advantage of the whole friend-of-a-friend thing and try to get the owner to give me a real recipe from his menu. Luckily for me (and you) he was happy to oblige!
One of their best menu items is their jackfruit carnitas, and I figured since I already tempted everyone to go hunt down some jackfruit I may as well do another recipe to really make it worth your while. And trust me – this one is worth your while.
Even easier than my BBQ pork recipe, it comes together in about 30 minutes (which is faster than real carnitas) and is super simple.
Having had both the restaurant version and my own homemade version, I can say that you really can use this recipe to get something very similar at home.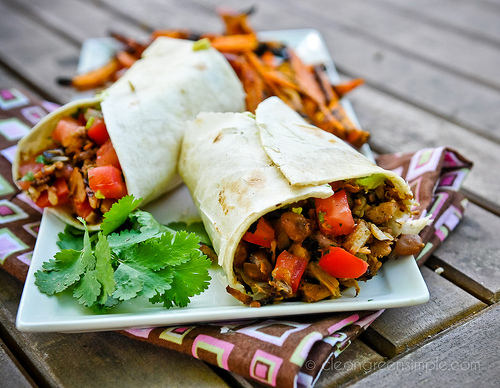 That being said, I will admit that I couldn't resist changing a few things – I made it exactly as written once but then just had to make it again (I know, I know – the sacrifices I make) with my own modifications because the restaurant version, while amazing and delicious, wasn't quite up to my clean eating standards.
Related Recipe: Jackfruit Tacos with Avocado Lime Sauce
The restaurant version essentially consists of jackfruit, "Better Than Bouillon" veggie bouillon, Mexican Coca-Cola (not regular Coke – Mexican Coke is made with real sugar instead of corn syrup), onion, garlic, and a bit of oil.
My modified version is very similar except that I replaced the "Better than Bouillon" with a homemade spice blend, and replaced the Coke with maple syrup. Both recipes worked great – mine has a bit more flavor of cumin and chili powder, his is a bit more neutral and "meaty."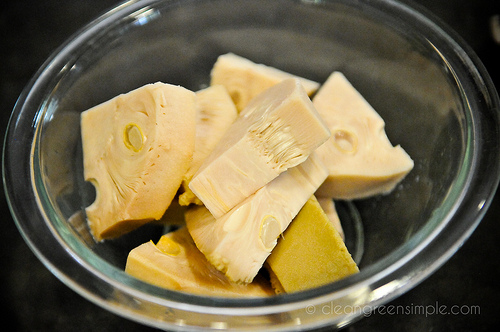 To make it either way, just chop up some onions and garlic and throw them in a pot with the bouillon/spice blend until everything is softened and coated.
Then add your drained and rinsed jackfruit along with your Coke, sugar, or maple syrup. The point of the sweetener is that the sugar caramelizes as it cooks and adds a little bit of brown color and crunch to the edges of your carnitas. I don't think skipping it altogether would yield such good results, but if anyone tries it do let me know!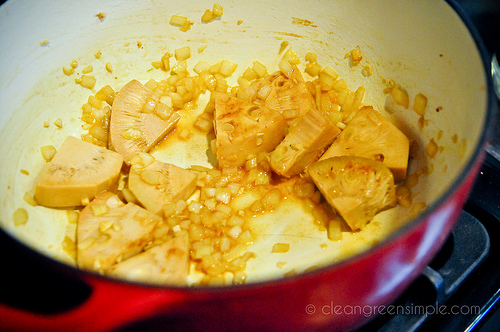 Once you've got everything mixed together, just let it cook for about 30 minutes, occasionally stopping by to break up the jackfruit into smaller and smaller pieces with your spatula.
Don't stir it too often since you're trying to get the outsides to brown and caramelize, just often enough to break up the jackfruit and prevent it from really sticking to the pot.
After 20 minutes or so it should look something like this: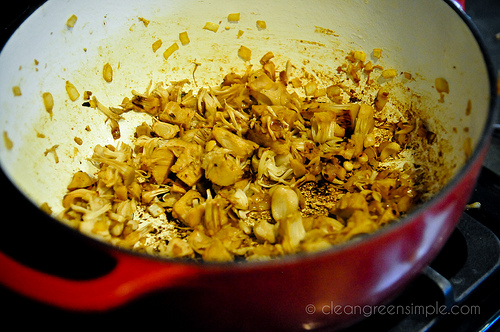 I love how jackfruit starts out looking nothing like pulled meat and then once it softens and shreds a bit it's totally convincing! Give it another ten minutes or so to really get nice and browned and caramelized and you'll have a plate of this stuff:
That's all there is to it! When I made it to the original recipe I made it as a burrito, so I added a can of pinto beans to the same pot I just removed the jackfruit from, along with a pinch of cumin, salt, and pepper, until they were nice and warm.
Then I rolled the carnitas and beans up in a flour tortilla along with some salsa and guacamole (plus a side of sweet potato fries), and it was crazy good: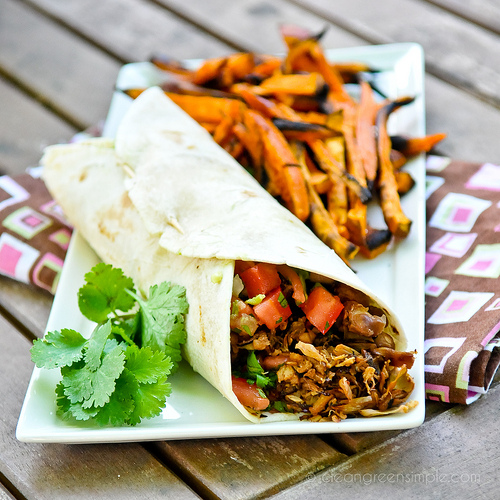 The second time I made the recipe, I decided to make tacos – so I added the jackfruit to a corn tortilla with a bit of avocado, salsa, and shredded cabbage: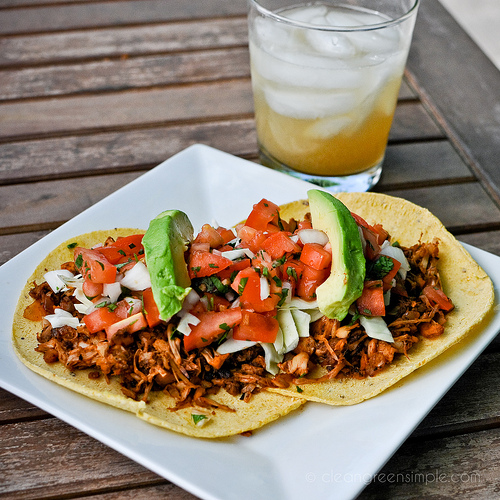 Also amazing – this recipe is such a great replacement for shredded meat! Hopefully you can find yourselves some jackfruit and give it a try!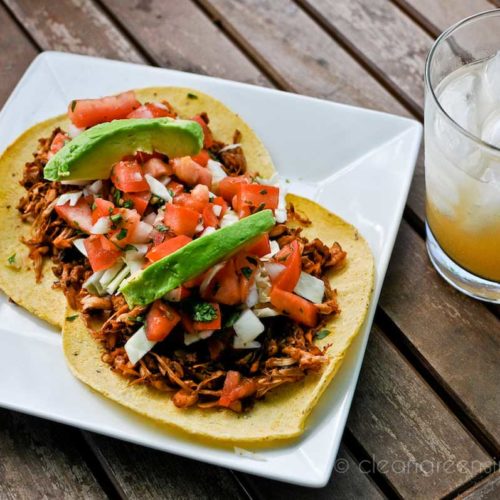 Jackfruit Carnitas
This delicious jackfruit carnitas recipe has the perfect texture of shredded pork for your next taco night. Plus it's vegan, gluten-free, low fat, refined sugar free, and soy free.
Click stars below to rate, or leave a full review in the comments
Print
Rate it Now
Pin Recipe
Ingredients
For the spice blend (this is relatively flexible – if you don't have a couple of the spices on hand just work with what you've got):
2

tsp

ground cumin

2

tsp

chili powder

1

pinch

cayenne pepper

¼

tsp

paprika

½

tsp

oregano

¼

tsp

garlic powder

¼

tsp

pepper

½

tsp

salt

1

pinch

cinnamon

1

tsp

lime juice

1

tsp

soy sauce

optional – omit if you're avoiding soy
For the carnitas:
1

Tbsp

cooking oil

Canola or something neutral

1

small onion

diced

2

clove

garlic

crushed

Homemade spice blend

see above

1

20 oz

can of Jackfruit in brine

drained

1

Tbsp

maple syrup
Instructions
Place a pan on medium heat. Add oil, onion, garlic, and spice blend.

Stir until onions are clear and coated with spices.

Add jackfruit and maple syrup and stir occasionally to break up the jackfruit. It will be ready when the liquid is dissolved and the jackfruit darkens and starts to look like shredded meat.
Nutrition
Calories:
123
kcal
|
Carbohydrates:
12
g
|
Fat:
7
g
|
Sodium:
730
mg
|
Potassium:
73
mg
|
Sugar:
4
g
|
Vitamin A:
645
IU
|
Vitamin C:
1.2
mg
|
Calcium:
53
mg
|
Iron:
2.5
mg