I've tried several vegan varieties of Macaroni and Cheese, and while many are tasty, nothing has ever been so close to real, creamy, delicious Mac and Cheese as this recipe. It's so good, and it even sneaks in a couple of servings of vegetables! (Don't worry, you can't really taste them) I found it at one of my new favorite vegan food blogs, Oh She Glows and it really delivers. You can find the recipe here.
Another perk is that it's also a bit easier to make than some of the vegan mac recipes – just boil the noodles and veggies, blend the "cheese" ingredients, mix it all together, and bake.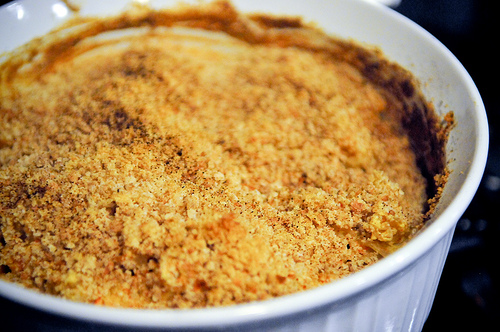 If you check out the original recipe you'll notice I got a little more liberal with the breadcrumbs than she did, but it was so good I'm not even ashamed. The only other changes I made were to use olive oil instead of Earth Balance (it's just a bit to mix in with the bread crumbs so it worked great) and brown rice rotini noodles instead of whole wheat. Poor Mac and Cheese, you are now neither mac nor cheese. I love you anyway, though!
I'll admit it's not the most photogenic recipe in the world, but what it lacks in looks it makes up for in personality. It would be great served with a side of steamed broccoli or roasted brussel sprouts for a bit of green.