In recent years, it's become increasingly easy to get your bacon fix while eating a vegan or vegetarian diet. It's all thanks to vegan bacon brands and their innovative plant-based creations. But if you're looking for a more DIY approach to your alternative bacon options, you can also try making your own vegan bacon at home.
Granted, store-bought "facon" products are delicious and convenient—but they often contain wheat gluten and/or soy protein. This may not ideal if you need to avoid these ingredients due to allergies, intolerances, or preferences. Plus, it can be difficult to control the flavor of any packaged food.
That said, when you make your own recipe, you can adjust the seasonings according to your taste buds. The actual process of making it is also quite easy, so it's a great way to dip your toes into plant-based cooking.
To get you started, check out the best vegan bacon recipes, below. From bacon bits to bacon strips, there's something for everyone on this list.
1. Tofu Bacon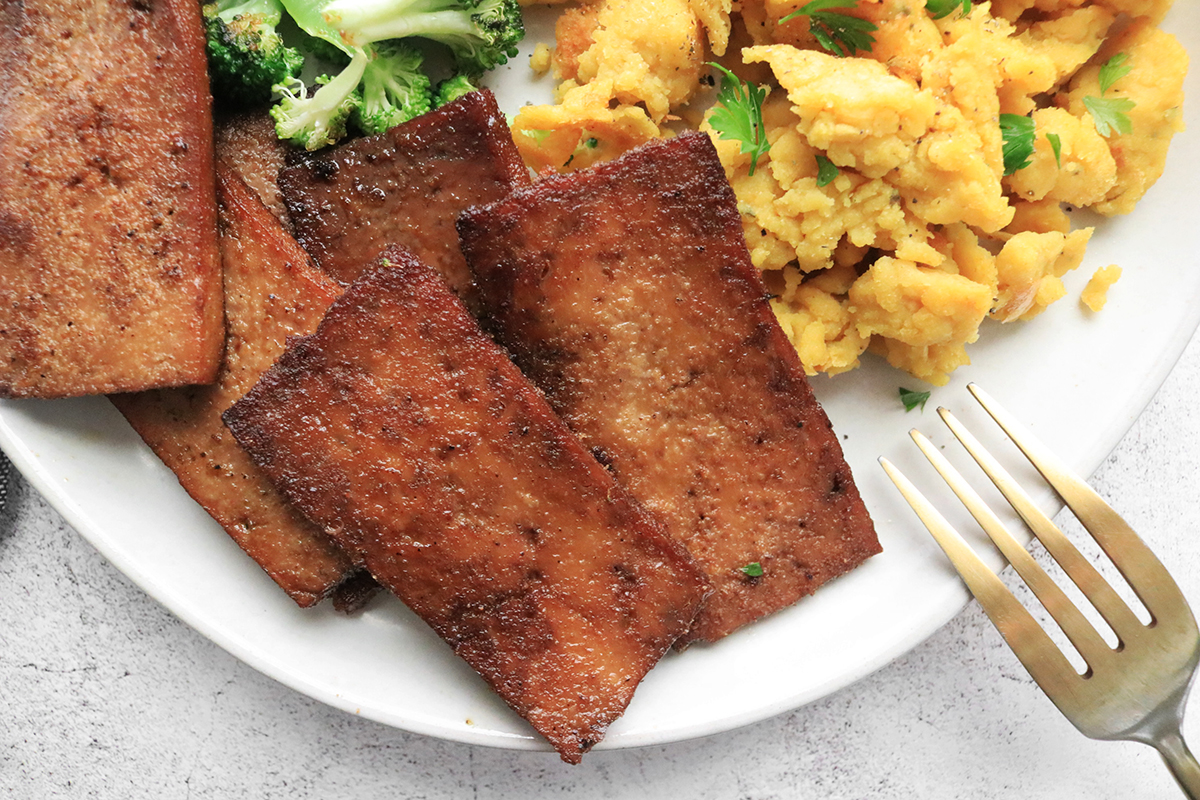 Read More
Why buy "facon" when you can make your own at home? This delicious smoky tofu bacon is easy to make and customize. Enjoy it in sandwiches, avocado toast, and more.
Check out this recipe
Tofu may have a reputation for being spongy and bland, but it's all about how you cook it. Take this tofu bacon recipe, for example. Once marinated and baked for 30 minutes, extra-firm tofu transforms into a delicious bacon substitute. It's also the perfect size and shape for sandwiches, like this JUST Egg spicy breakfast sandwich.
2. Coconut Bacon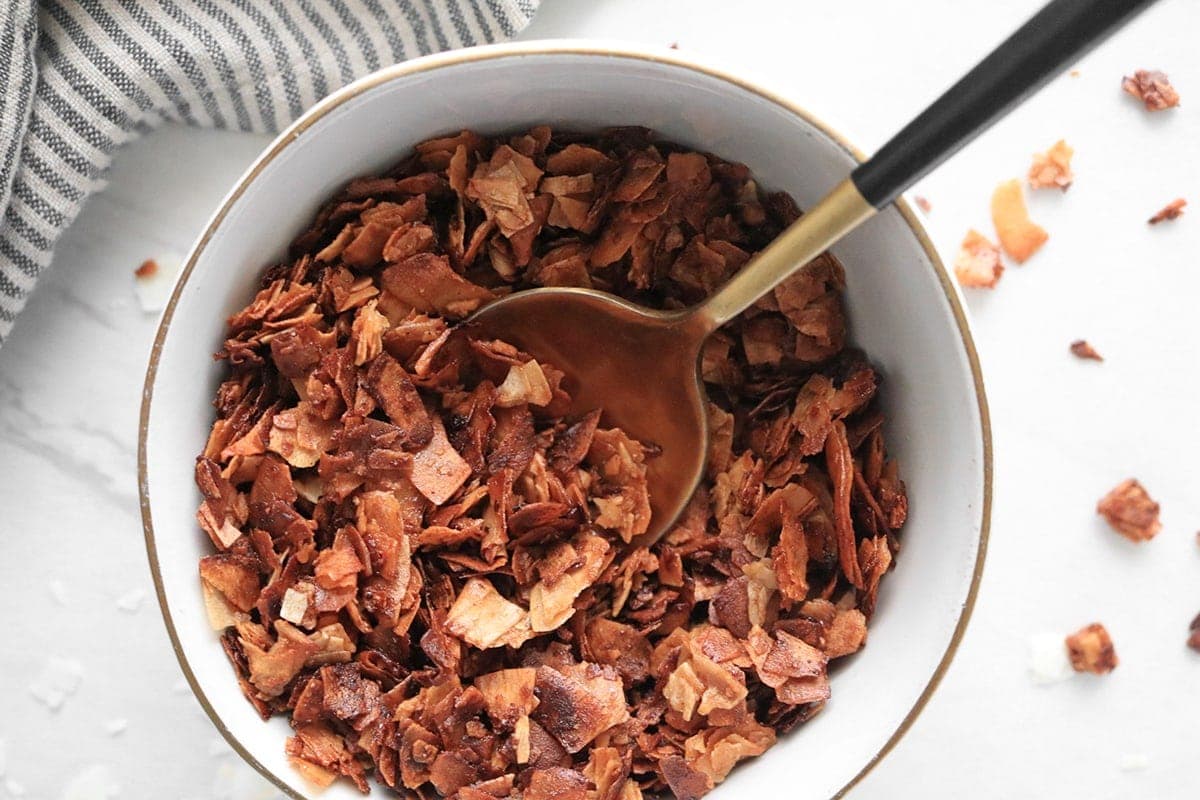 Read More
Perfectly savory and smoky, coconut bacon is a delicious vegan bacon alternative. Add it to salads, wraps, tacos, and more!
Check out this recipe
Thanks to their naturally crispy and crunchy texture, coconut flakes make for the perfect vegan alternative to bacon bits. Try sprinkling coconut bacon on top of stews, salads, and soups, like this vegan cream of asparagus soup. It also works well on top of avocado toast or tacos—but if you eat it by the handful, we certainly won't judge.
3. Tempeh Bacon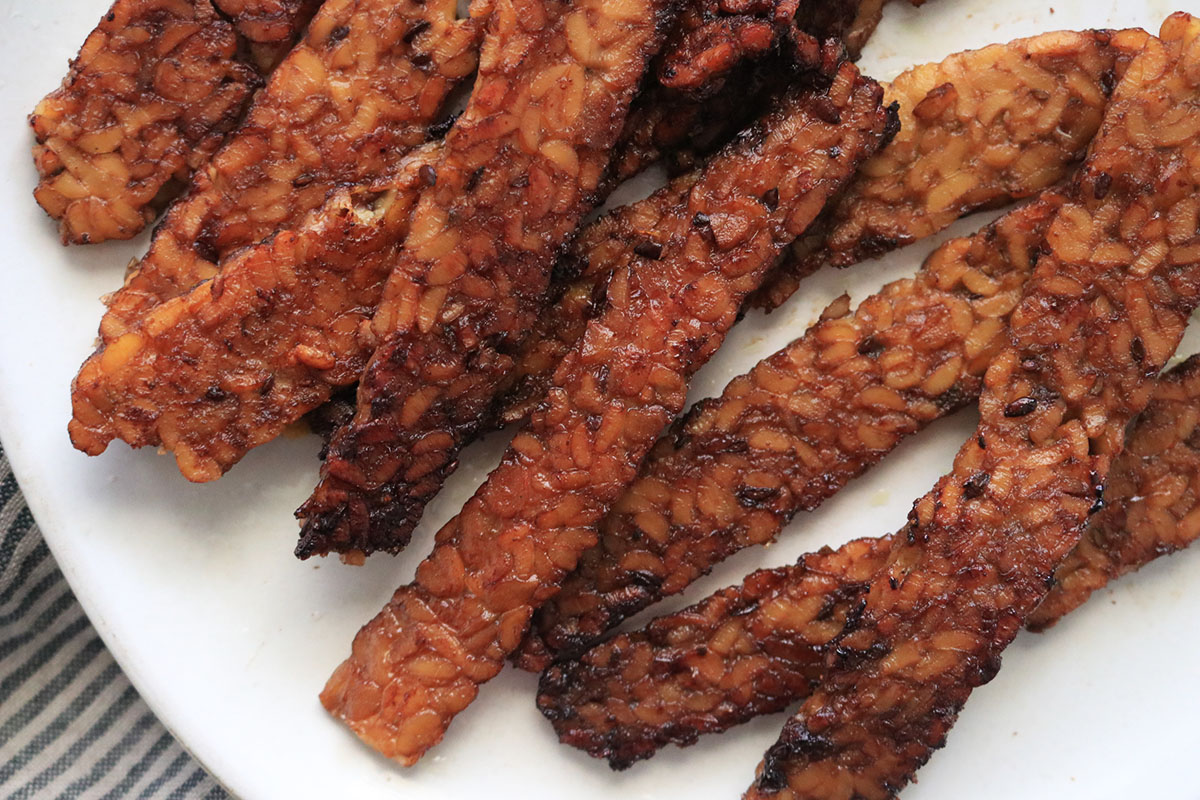 Read More
Perfectly smoky and savory, this tempeh bacon is a must for every plant-based menu. Enjoy it in BLTs, breakfast burritos, or as a tasty snack.
Check out this recipe
Not a fan of tofu? Make a batch of tempeh bacon. Not only does it have a wonderful meaty texture, but it's high in plant-based protein too. We're big fans of pairing this facon with lettuce and tomato in vegan BLT sandwiches.
4. Carrot Bacon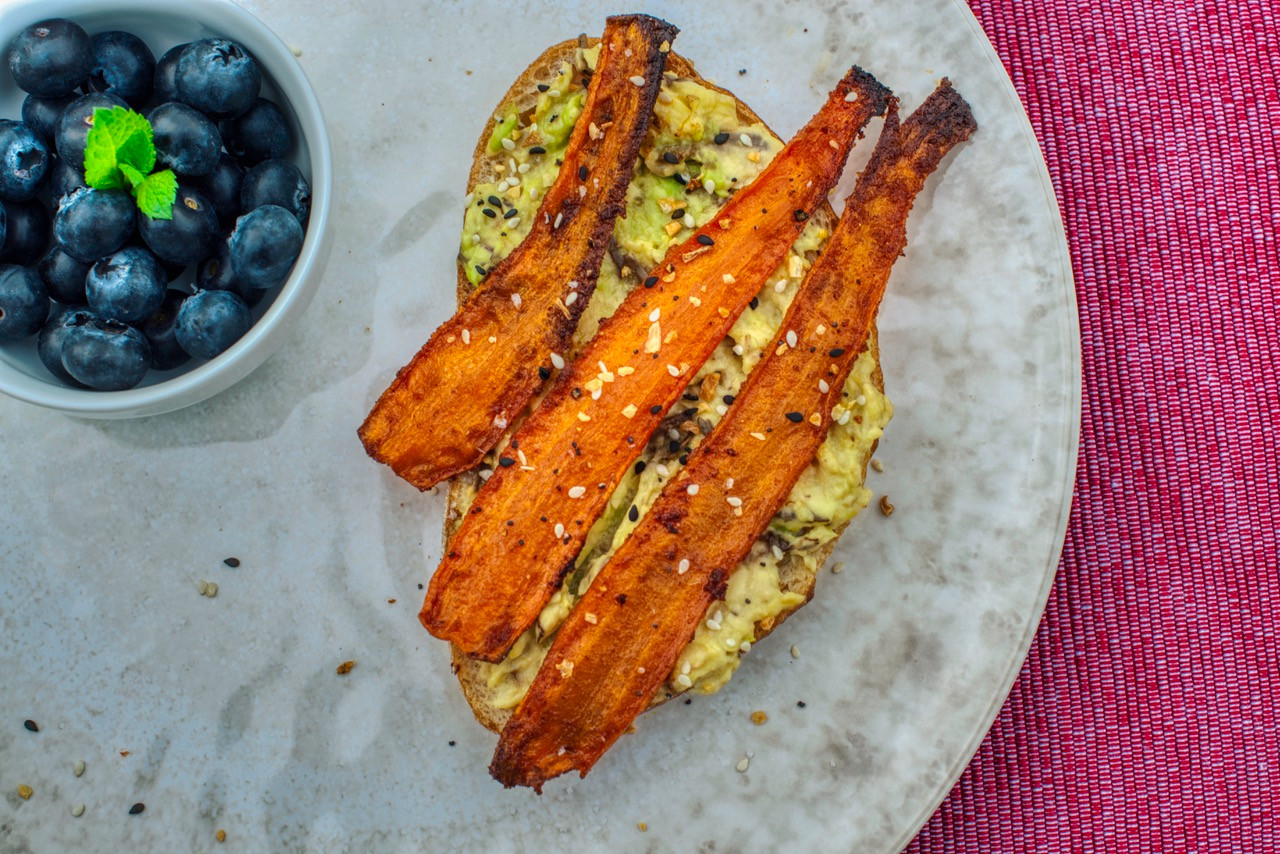 Read More
Crispy, salty, and with that hint of smoke that makes us hanker for it long past the bells of breakfast. Courtesy of Chris Riley of <a href="https://thedaringkitchen.com/">The Daring Kitchen.</a>
Check out this recipe
At first glance, the humble carrot might seem like an unlikely candidate for vegan bacon. But once again, it's all about how you cook it. Simply use a mandolin to slice carrots into thin strips, then marinate in a soy sauce-based mixture. After just 20 minutes in the oven, you'll have crispy carrot bacon.
5. Shiitake Mushroom Bacon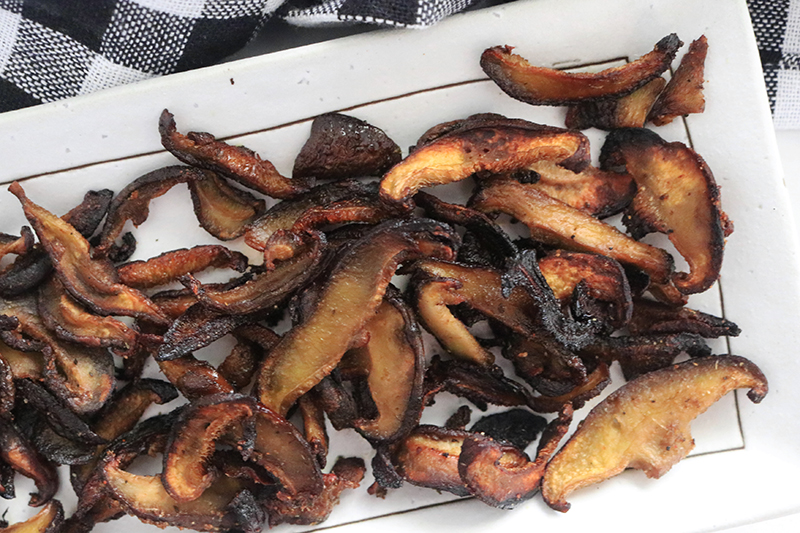 Read More
Perfectly crispy and smoky, this shiitake mushroom bacon is amazing on sandwiches and salads. Make it in just 20 minutes with this easy vegan recipe.
Check out this recipe
Another veggie bacon alternative? You bet. Shiitake mushrooms have a satisfying meaty texture, making them ideal for replacing normal bacon. Try adding shiitake mushroom bacon to vegan breakfast burritos for a filling and delicious meal.
6. Rice Paper Bacon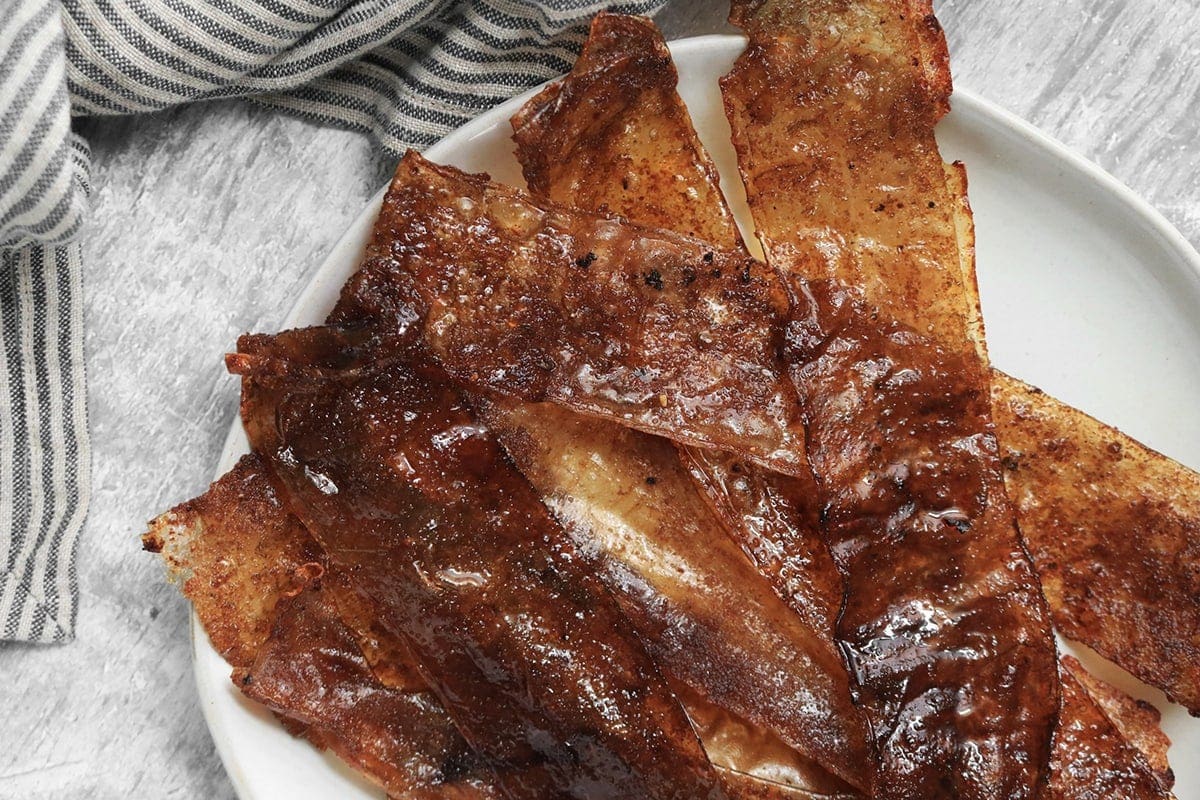 Read More
Ready in less than 30 minutes, this vegan rice paper bacon is crispy and delicious. Add it to sandwiches or wraps for extra crunch and flavor.
Check out this recipe
If you're looking for a bacon substitute that's light in texture but rich in flavor, this rice paper bacon is for you. All you need to do is cut rice paper wrappers into strips and soak them in a smoky soy sauce marinade. Bake them in the oven for about 10 minutes for crispy rice paper bacon.