Here at Clean Green Simple, we've never met a taco we didn't like. And since tacos offer a delicious way to enjoy vegetables, we decided to round up the best vegan taco recipes on the web. On this list, you'll find everything from cauliflower tacos to quinoa tacos—even tacos filled with Brussels sprouts.
If you're new to plant-based eating or trying to eat more whole foods, don't hesitate to customize these dishes to suit your current needs. For example, you can pair a vegan taco filling with your usual taco ingredients, even if that includes meat or cheese. It's a great way to slowly transition to plant-based eating and see what works for you.
And don't forget: You can make any of these recipes gluten-free by using gluten-free tortillas (or breadcrumbs, if a recipe calls for it).
1. Crispy Cauliflower Tacos
Vegan, Soy-free | Total time: 50 minutes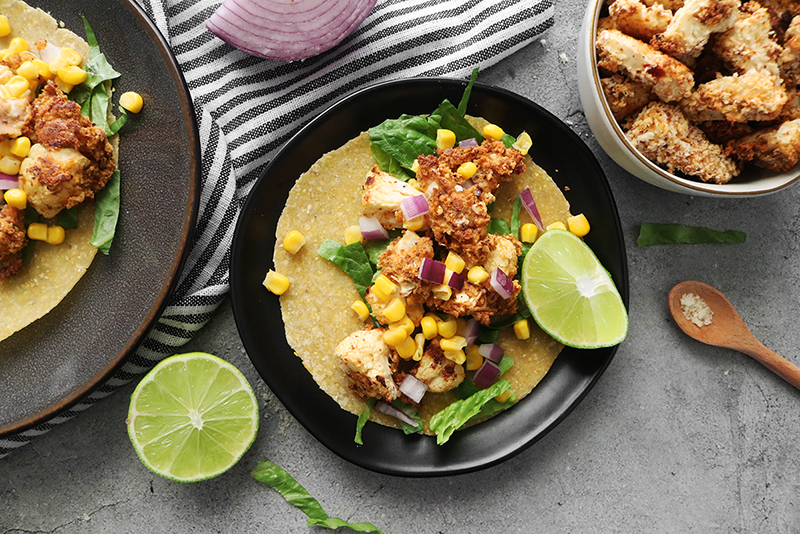 Turn up the heat with these crispy cauliflower tacos. Cauliflower florets are dipped in a batter of chipotle peppers and dairy-free milk, then breaded and roasted until tender. If you eat a gluten-free diet, use your favorite gluten-free breadcrumbs.
2. 5-Ingredient Vegan Tacos
Vegan | Total time: 12 minutes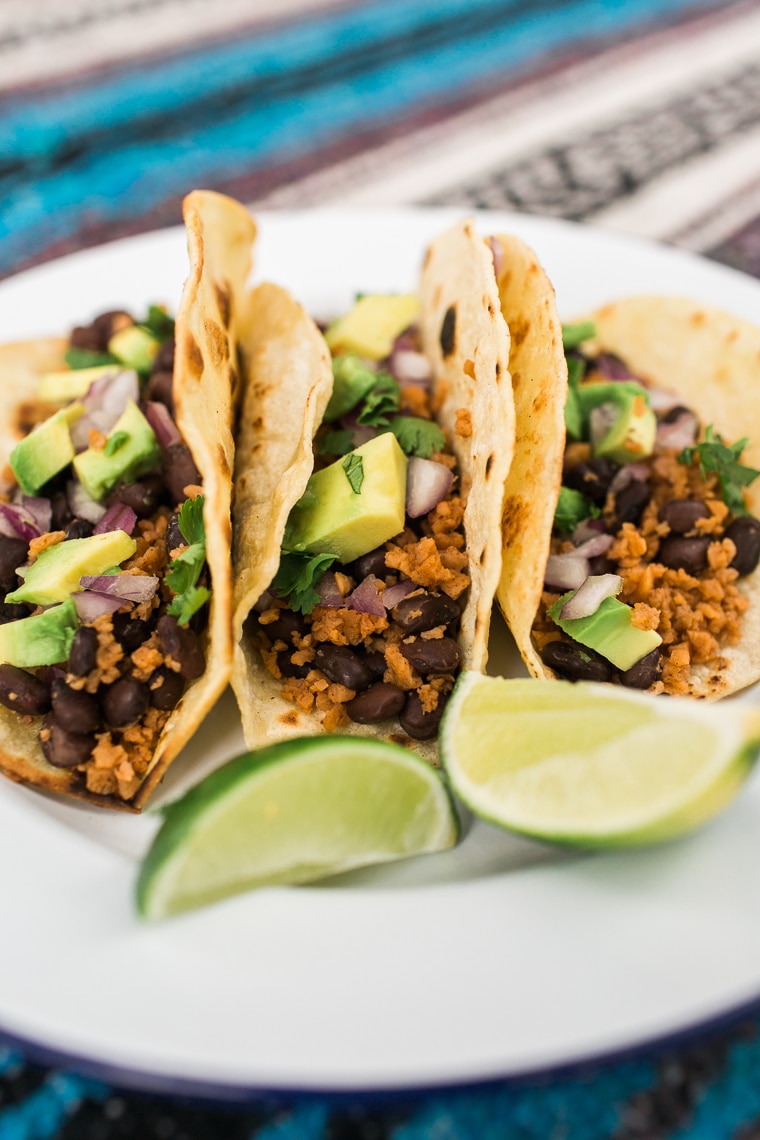 With only 12 minutes of total prep and cook time, you'll be enjoying these easy vegan tacos in no time at all. With 5 ingredients and one pot, this is a great taco recipe for camping, road trips, or a quick lunch.
3. Quinoa Tacos
Vegan, Gluten-free, Soy-free | Total time: 1 hour
This flavorful taco "meat" is made with quinoa, smoky seasonings, and salsa. With quinoa as the main ingredient and only a tablespoon of oil in the whole recipe, it's a super-healthy vegan substitute for ground beef!
4. Sweet Potato & Black Bean Tacos with Avocado-Pepita Dip
Vegan, Gluten-free, Soy-free | Total time: 1 hour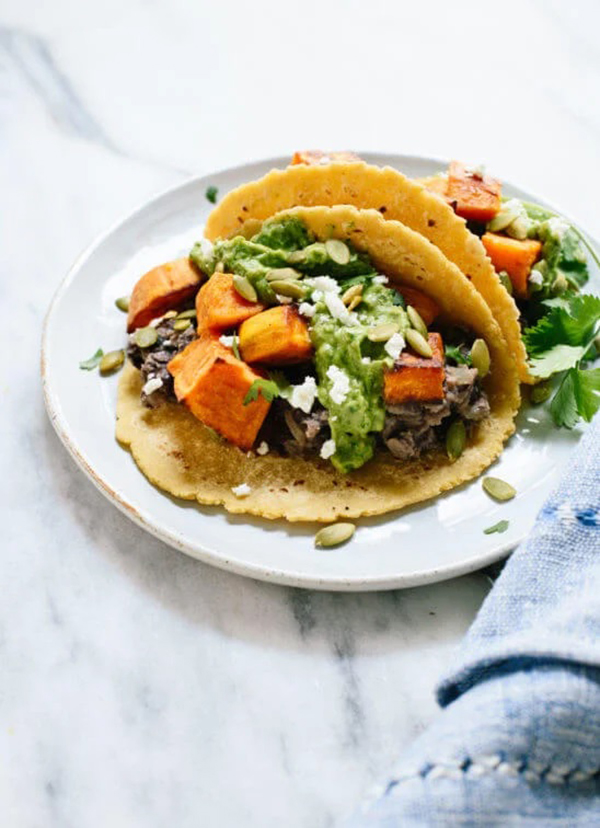 If you love all things savory and spicy, try these sweet potato and black bean tacos with avocado-pepita dip. Sweet potatoes are roasted to perfection then layered with spiced black beans and a unique avocado topping. Needless to say, these tacos are full of flavor and texture.
5. Barbecue Brussels Sprouts Tacos
Vegan, Gluten-free, Soy-free | Total time: 45 minutes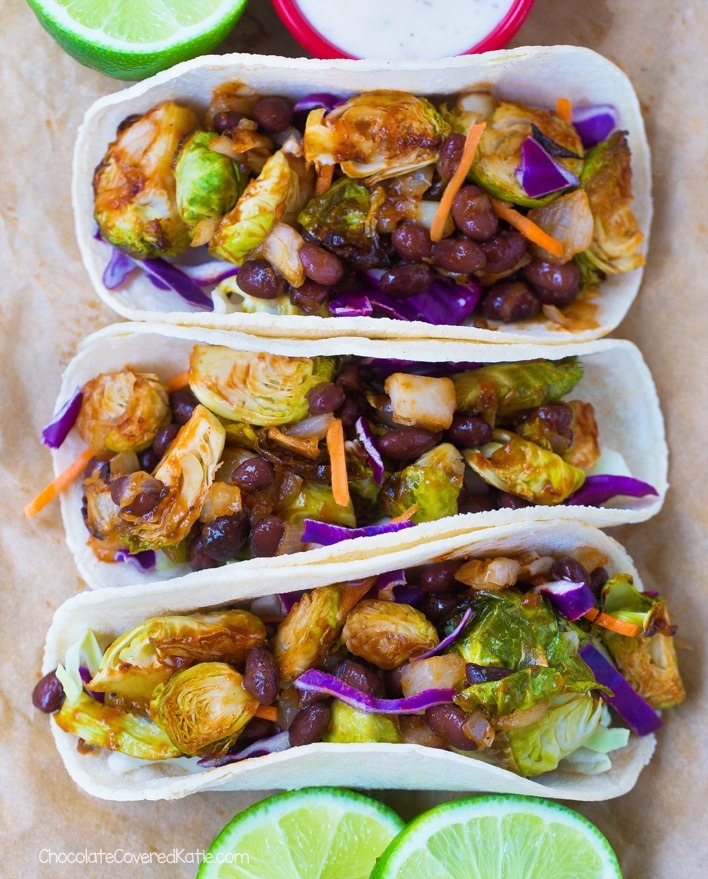 Though Brussels sprouts aren't usually associated with Mexican food, these barbecue Brussels sprouts tacos will prove that anything is possible. You can make them with any plant-based protein of your choice, such as beans or tofu. (To make this recipe 100% vegan, use vegan barbecue sauce.)
6. Jamaican Jerk Vegan Tacos
Vegan, Gluten-free, Soy-free | Total time: 40 minutes
These vibrant vegan tacos feature spicy jackfruit "meat" and homemade mango avocado salsa. The recipe even includes a DIY Jamaican jerk seasoning, featuring a delicious blend of spices like thyme, allspice, and cayenne pepper.
7. Vegan Black Bean Tacos
Vegan, Gluten-free | Total time: 30 minutes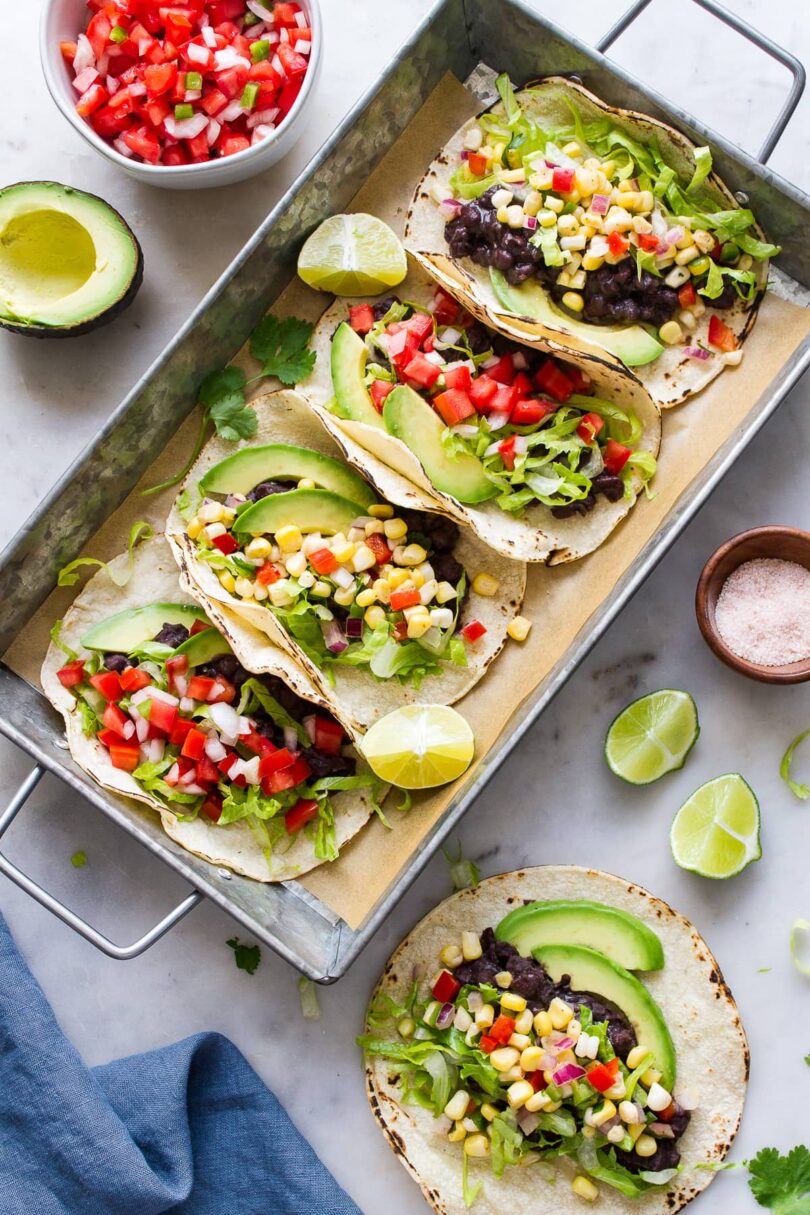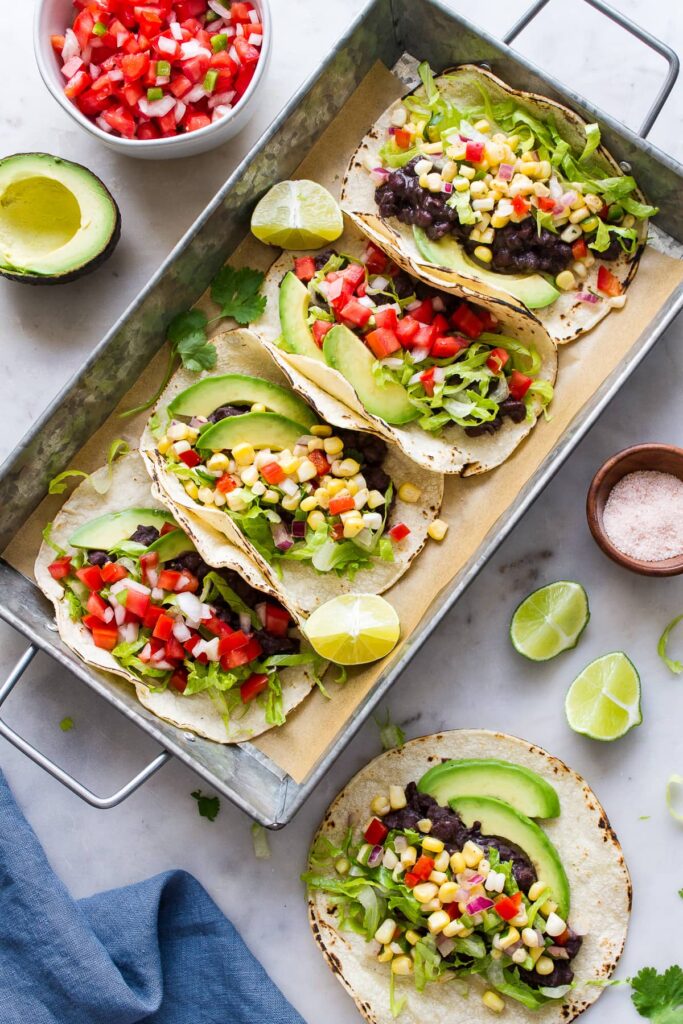 When it comes to plant-based eating, you can't go wrong with canned beans. This is especially true if you're making these vegan black bean tacos, a simple yet hearty recipe. No black beans? No worries—try them with red or white beans, or even chickpeas.
8. Crispy Tofu Tacos with Vegan Lime Crema
Vegan, Gluten-free | Total time: 40 minutes
Contrary to popular belief, tofu doesn't have to mushy and flavorless. Thanks to these crispy tofu tacos with vegan lime crema, you can enjoy crunchy tofu breaded with chickpea flour and quinoa. The dairy-free lime crema, made with a cashew base, is drool-worthy all on its own.
9. Air Fryer Cauliflower Chickpea Tacos
Vegan | Total time: 30 minutes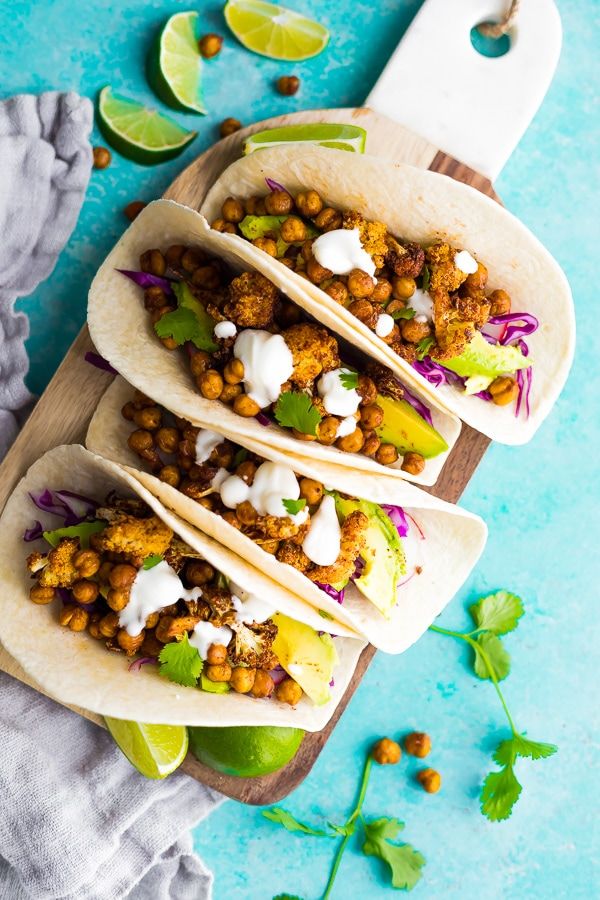 If you have an air fryer, you'll want to make these air fryer crispy cauliflower chickpea tacos ASAP. The taco filling calls for just four ingredients, and the entire recipe takes just 30 minutes to make.
10. Jackfruit Tacos with Avocado Lime Sauce
Vegan | Total time: 30 minutes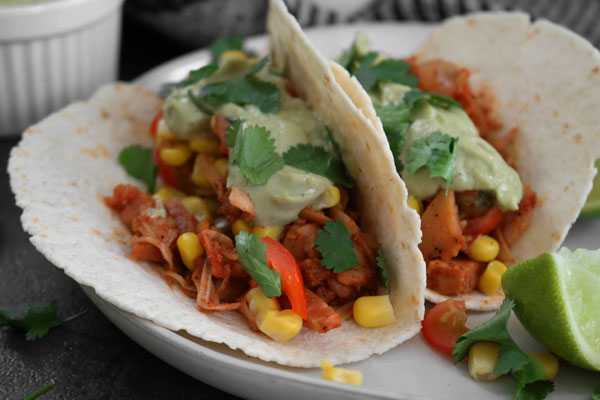 Add jackfruit to your weekly rotation with these jackfruit tacos and avocado lime sauce. The canned jackfruit—which is spiced with chili powder, cumin, and paprika—is the perfect partner for the creamy avocado topping.
11. Roasted Corn and Zucchini Tacos
Vegan, Vegetarian, Gluten-free, Soy-free | Total time: 40 minutes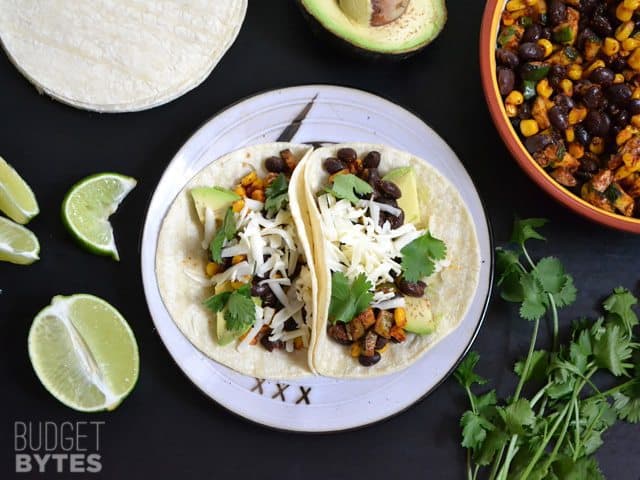 The world of vegan tacos knows no boundaries, and these roasted corn and zucchini tacos are proof. Corn and zucchini are tossed with taco seasoning, roasted, then layered with black beans and cilantro. The original recipe calls for shredded cheese, but you can omit it or use your favorite vegan cheese.
12. Easy Lentil Tacos with Cashew Queso
Vegan | Total time: 45 minutes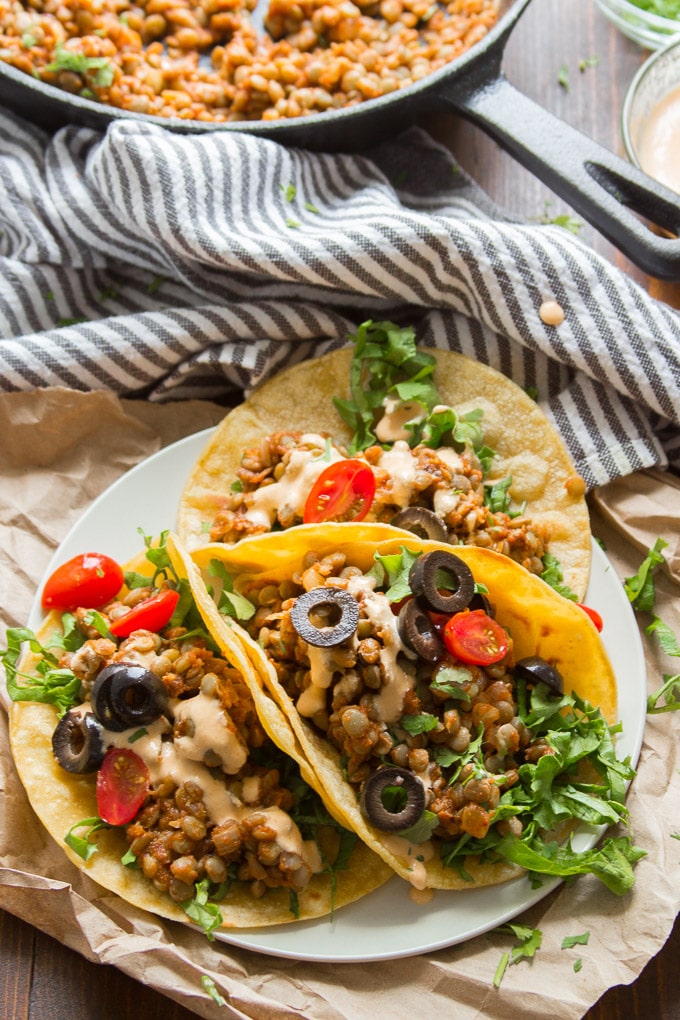 For an extra-hearty vegan meal, make these lentil tacos with cashew queso. Lentils are jam-packed with fiber and protein, so they'll keep you full for a long time. You can even toss the taco lentil filling with other veggies like corn or diced mushrooms.
13. Walnut and Tempeh Tacos
In this tutorial, you'll learn how to make walnut and tempeh vegan tacos. This includes not one—but two ways to make plant-based taco fillings. Both versions create a "ground beef" that's ideal for tacos, burritos, and more.
14. Mango Lime Quinoa Tacos
Vegan, Gluten-free | Total time: 10 minutes
Give quinoa a fun spin with these mango lime quinoa tacos. The grains are tossed with mango, salsa, spices, and lime juice then layered with veggies on tortillas. All you need is a tropical drink and you're good to go.
15. Vegan Chorizo Breakfast Tacos
Vegan, Gluten-free, Soy-free | Total time: 50 minutes
Cauliflower is back at it again in these vegan chorizo breakfast tacos. This is an excellent alternative if you can't eat pre-made meat substitutes, which are typically made with soy. The recipe even includes a hemp seed sour cream—yum!
More Delicious Taco Recipes to Try:
Bonus Recipe: Crispy Vegan Tacos
Looking for a simple option for vegan taco night? It doesn't get more simple than this Crispy Vegan Taco recipe. Full recipe below, so give it a try!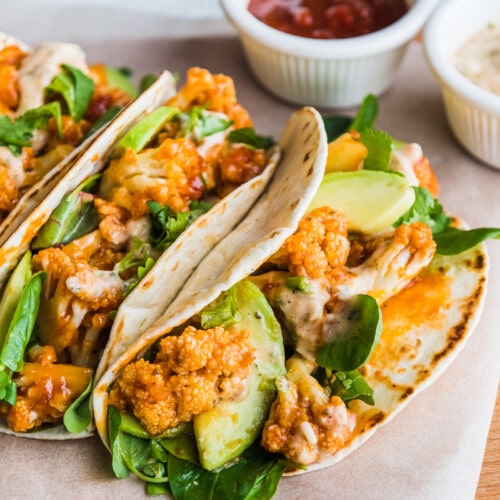 Tasty Vegan Taco Recipes: Crispy Vegan Tacos
For satisfying Mexican-inspired meal, these crispy vegan tacos with roasted cauliflower are the best! Just coat the cauliflower in chipotle sauce and breadcrumb, then roast until perfectly tender.
Click stars below to rate, or leave a full review in the comments
Print
Pin Recipe
Ingredients
½

cup

panko breadcrumbs

2

tablespoons

flaxseed

1

cauliflower

medium head, chopped into florets

1

tablespoon

chipotle pepper sauce

½

cup

almond milk

or other non-dairy milk, water, or broth

1 to 2

teaspoons

cumin

1

teaspoon

garlic powder

or onion powder

8 to 12

tortillas

Taco fillings

of choice
Instructions
Preheat the oven to 425° F. Combine the chipotle and non-dairy milk in a blender. In a large bowl, toss the chipotle mixture and cauliflower.

In a smaller bowl, mix the breadcrumbs, flax meal (if using), cumin, and onion or garlic powder. Dip each cauliflower floret into the breadcrumbs to coat. Place on a large baking sheet lined with parchment paper or a silicone mat.

Roast for 20 to 25 minutes, or until the cauliflower is tender and the coating is crispy and golden brown. Layer on tortillas with fillings of your choice.
Notes
Note: nutrition information is a rough estimate and doesn't include tortillas and other taco fillings.
Nutrition
Calories:
58
kcal
|
Carbohydrates:
9
g
|
Protein:
3
g
|
Fat:
2
g
|
Saturated Fat:
1
g
|
Polyunsaturated Fat:
1
g
|
Monounsaturated Fat:
1
g
|
Sodium:
94
mg
|
Potassium:
249
mg
|
Fiber:
2
g
|
Sugar:
2
g
|
Vitamin A:
1
IU
|
Calcium:
7
mg
|
Iron:
1
mg