Looking for edible spreadables? If you adore the creamy flavor of butter but follow a vegan lifestyle, getting your fix could be tough. Luckily, there are some excellent plant-based butter substitutes out there that are 100% dairy-free, yet still offer great taste and texture.
Here are some of the best vegan butter brands available anywhere.
1. Miyoko's European Style Cultured Vegan Butter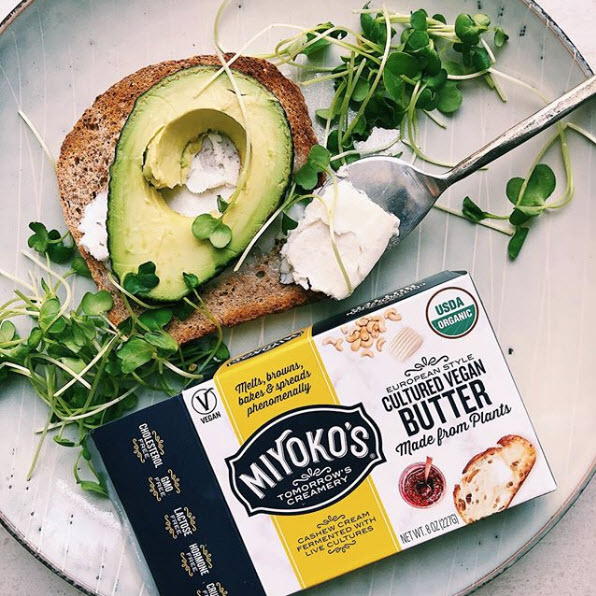 Made from plant-based ingredients and then fermented with traditional creamery live cultures, Miyoko's Cultured Vegan Butter doesn't merely taste like the real thing. It spreads, melts, and bakes like the real thing too.
If you're looking for that undeniably creamy taste of butter without the dairy, you might just have found it. This is one of the best vegan butter substitutes when it comes to taste and versatility. 
What's more, the spread is the only one on our list that doesn't contain palm oil. It's also GMO-free and organic, too. In short, it ticks all the right boxes.
So, what's the catch? Getting your hands on this vegan butter isn't quite as easy as the more mass-produced brands, so you may have to visit your local health food store or search around online. Luckily, some Amazon sellers stock this butter substitute. However, it tends to sell out quickly when available. 
2. Earth Balance Original Buttery Spread
Not enough spare time to search the depths of the internet for the best vegan butter substitutes? Earth Balance may be the spreadable for you.
The original buttery spread is widely available in Walmart stores and many grocery chains across the U.S. The spread is a popular butter substitute and for good reason. It offers a buttery taste along with a creamy, spreadable texture. 
However, if you read the ingredients label closely, you'll notice the vegetable oil blend contains palm fruit (palm oil). While Earth Balance "supports the production of certified sustainable palm oil," their Original Buttery Spread doesn't explicitly display the RSPO label at this time, so it's unclear if they're getting it from a sustainable source.
3. I Can't Believe It's Not Butter Vegan
I Can't Believe It's Not Butter has been around for years. It was a popular dairy-free option long before the recent vegan diet trend. In fact, if you compare the labels of the original product versus the newer vegan product, they look identical.
While the vegan version may just be a new way of marketing an old product, it is Vegan Action Certified, which does provide some additional assurance for vegans. It also has a creamy, buttery taste you'll love.
4. Smart Balance Original
Keeping bad cholesterol at bay is essential to your health goals. One of the best vegan butter substitutes for your wellness could be Smart Balance Original.
The product claims to be 'made with a unique blend of expeller-pressed oils that improves the ratio of "good" HDL to "bad" LDL1'. Put simply, the spread could help to improve your cholesterol levels when it accounts for two-thirds of your daily fat intake. 
The spread is available in Walmart stores among other retailers, which means that you shouldn't have a problem getting it.
There are variations of the product too, with some containing extra helpings of Omega-3 and even a low-sodium option. Of course, there has to be a down-side. In this case, it's the fact that the spread contains palm oil. 
5. Pure Blends Plant-Based Butter
Available at Walmart and Target, it's easy to lay your hands on the Pure Blends spread.
The plant-based spread has a base of avocado oil and vegetable oil. On the plus side, it's a great source of Omega 3 ALA and vitamins. The product doesn't contain any partially hydrogenated oils or artificial flavorings.  
All of the above means that this is one of the best vegan butter substitutes when it comes to getting the nutrients you need. However, it's worth noting that this spread also contains palm oil, and there's no indication on the packaging whether it's ethically sourced.
Other Vegan Butter Substitutes
The best vegan butter substitutes we have listed here are all available in the US. However, if you are willing to look further afield, there's a broader range of options.
With that in mind, here are some of the other substitutes you can find around the globe: 
While the above products are not widely available in U.S. brick-and-mortar stores, you may find that you can occasionally get them online. For that reason, it could be worth keeping your eye out.
Things to Look For
Since you're already looking for a vegan option, you might also be concerned with other health and environmental factors. Here are a couple to keep in mind.
Trans Fats
U.S. food manufacturers are no longer permitted to use trans fats in food products without FDA approval, but it's something you should pay attention to on nutrition labels of products not produced in the U.S.
The primary source of trans fats is from partially hydrogenated oils, or PHOs, which are not Generally Recognized as Safe by the FDA and should be avoided. None of the options below contain PHOs.
Certified Sustainable Palm Oil
Palm oil is derived from the fruit of oil palm trees, which grows in tropical rain forests. In recent years, rain forests have been increasingly cleared to expand palm oil plantations, damaging important ecosystems in the process.
Although you don't need to give up palm oil completely, you should look for the RSPO label to ensure you purchase products made with certified sustainable palm oil. Also, look for products with palm fruit oil instead of palm kernel oil, since the latter is much higher in saturated fat.
Needless to say, before you buy any of the listed products, you should do your own research to check that they align with your health and dietary goals. Simple.
Feature photo: mizina/Bigstock