Does anyone remember that song "Lunchlady Land" by Adam Sandler? At one point in the song the chorus goes "Sloppy Joes, Slop, Sloppy Joes," and I get that stuck in my head whenever I make Sloppy Joes now.
If you combine that information with the fact that I get Weird Al stuck in my head when I make lasagna, you will begin to realize that I spent my formative years listening to way too much parody music. Nerdy and proud, baby!
My geekiness aside, these sloppy joes are great! The base is a combination of tempeh and lentils – I've seen plenty of recipes for tempeh sloppy joes, and I've also seen lentil sloppy joes, but combining the two really improves the texture and taste of the whole thing (in my opinion, of course).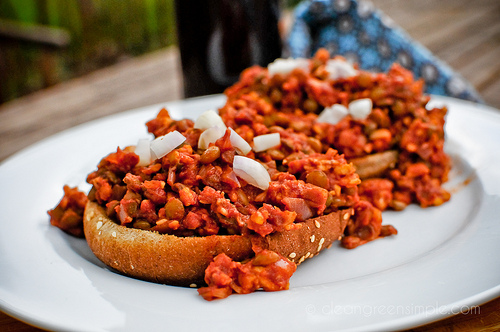 It's also pretty easy – the lentils need to boil for about half an hour, and the tempeh can marinate for about half an hour, so it all times out nicely. The tempeh marinade is easy – just mix together some vinegar, salt, chili powder, onion, garlic, and a bottle of beer (you can also use water, but beer is fun. And the leftover beer is great with sloppy joes! Make sure to use gluten free beer if you are GF.)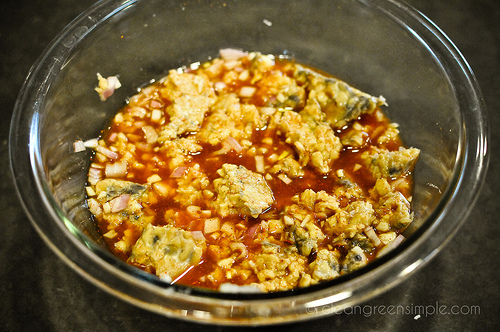 Then while those are soaking and the lentils are boiling you can make your sloppy joe sauce – there's several ingredients but most of them are basic pantry staples. Mix everything together and you'll end up with a nice ketchup-y mixture (that you'll note has no commercial ketchup or refined sugar in it! Yay!):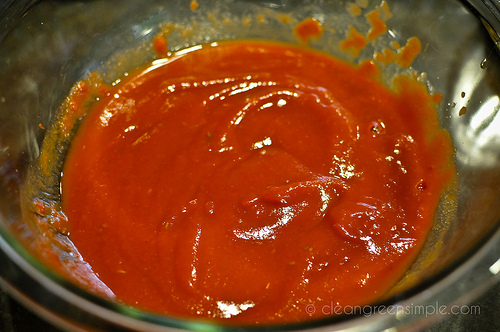 Once your lentils are soft and tempeh marinated, combine everything in a large skillet until it's nice and warm. I like to serve them open faced on a toasted bun and eat them with a fork, but you could also do it burger style, whatever makes you happy.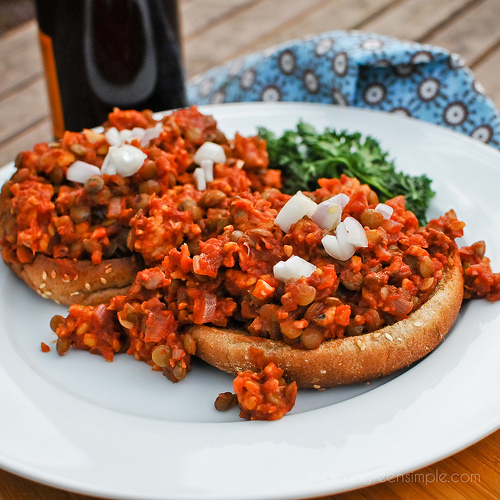 This was such an easy and tasty weeknight dinner, and my husband was pretty psyched about them so I think they'll be making it into the rotation.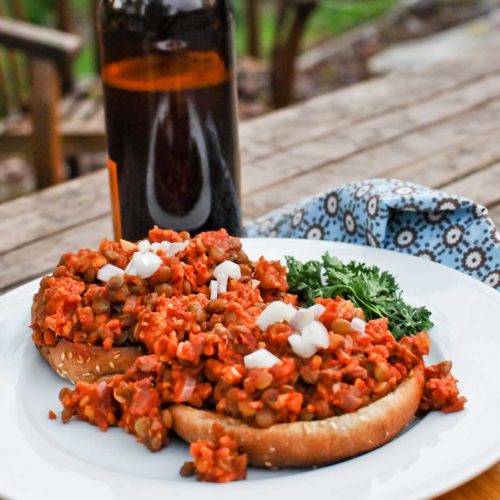 Vegan Sloppy Joes with Lentils & Tempeh
Vegan, Gluten Free if you use GF buns and beer, Low Fat, Refined Sugar Free You could get away with using just lentils or just tempeh, but I felt like the combo was better than either one alone.
Click stars below to rate, or leave a full review in the comments
Print
Rate it Now
Pin Recipe
Ingredients
For the tempeh marinade:
1

package of tempeh

¼

c.

apple cider vinegar

1

tsp

salt

1

cup

beer

or you can use veggie broth or water. Use GF beer if you don't want gluten

1

Tbsp

chili powder

¼

cup

onion

chopped

2

cloves

garlic

chopped
For the lentils:
1

cup

lentils

rinsed

4

cups

water
For the sloppy joe sauce:
1 8

oz

can tomato paste

½

cup

tomato sauce or crushed tomatoes

1

Tbsp

maple syrup

½

tsp

oregano

1

tsp

salt

2

tsp

apple cider vinegar

½

c.

water

1

Tbsp

chili powder

Dash of tabasco

optional

Pinch

ground mustard

optional

2-4

hamburger buns or 4-8 slices of bread

use GF if you don't eat gluten
Instructions
Combine all marinade ingredients except tempeh in a medium bowl. Crumble tempeh into 1/2 inch or so chunks and let sit in marinade for about half an hour or longer and then drain.

Add lentils and water to a medium saucepan and bring to a boil, then let simmer for 20 minutes until lentils are soft. Drain.

In a medium bowl, combine all sauce ingredients. Add lentils, tempeh, and sauce to a large skillet and heat over medium heat until everything is warm. Serve warm on lightly toasted hamburger buns or bread.