Long gone are the days of vegans and vegetarians eating nothing but salad at a Memorial Day BBQ. Thanks to these 21 mouthwatering recipes, you can enjoy "veganized" versions of popular barbecue staples. What better way to kick off the start of summer?
You might even impress the taste buds of a few non-vegan guests. (If you're willing to share, that is.) You'll definitely want to add some of these to your spring recipes list.
Read on for our favorite vegan recipes for Memorial Day. Happy grilling!

1. Marinated Veggie Kebabs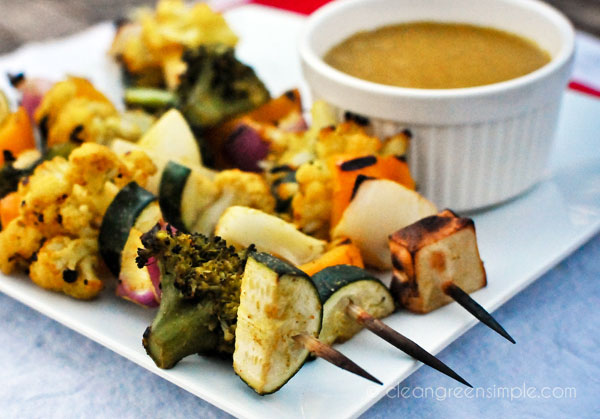 A barbecue simply isn't complete without veggie kebabs. But instead of tossing your favorite veggies in olive oil and calling it a day, why not try a curry marinade? You can even turn leftover marinade into a dipping sauce.
2. Vegan Thousand Island Dressing
Whether you're serving baby carrots or veggie burgers, you'll want to make this vegan thousand island dressing. It requires just seven ingredients and can be customized according to your taste buds.
3. Baked Beans and Grilled Corn on the Cob
Much like veggie kebabs, baked beans and grilled corn are barbecue essentials. Vegan baked beans are also surprisingly easy to make, so we know you'll love this easy recipe.
4. Vegan Sausage Rolls
With ingredients like vegan sausage, frozen puff pastry, and fresh herbs, you can throw together these vegan sausage rolls by The Compassion Kitchen. Don't forget the dipping sauce, too.
5. Vegan Quinoa Salad
Thanks to the combination of peas, carrots, and purple cabbage, this vegan quinoa salad is both colorful and delicious. The recipe also includes a sunny lemon vinaigrette that's hard to resist.
6. Potato Cauliflower Chickpea Salad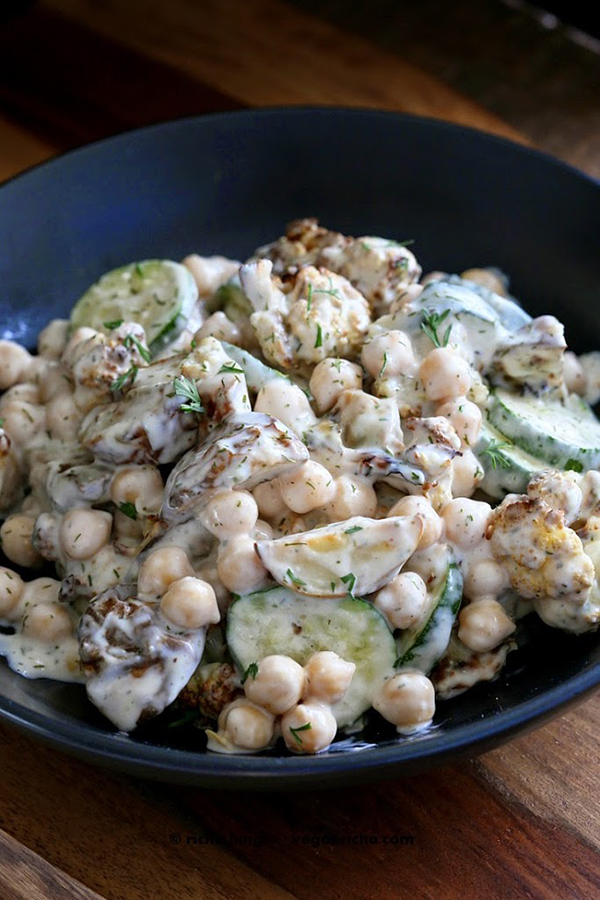 For a healthy take on the classic potato salad, make this potato cauliflower chickpea salad by Vegan Richa. It even includes a homemade sour cream and onion dressing made with ingredients like lemon juice, dill, and garlic powder.
7. Vegan Egg Salad
Tofu, vegan mayo, and yellow mustard come together in this vegan egg salad recipe. You can serve it as sandwiches or on top of crackers, depending on your preference. If you don't want to use tofu, try it with chickpeas instead.
8. Easy Vegan Pesto with Basil, Walnut and Kale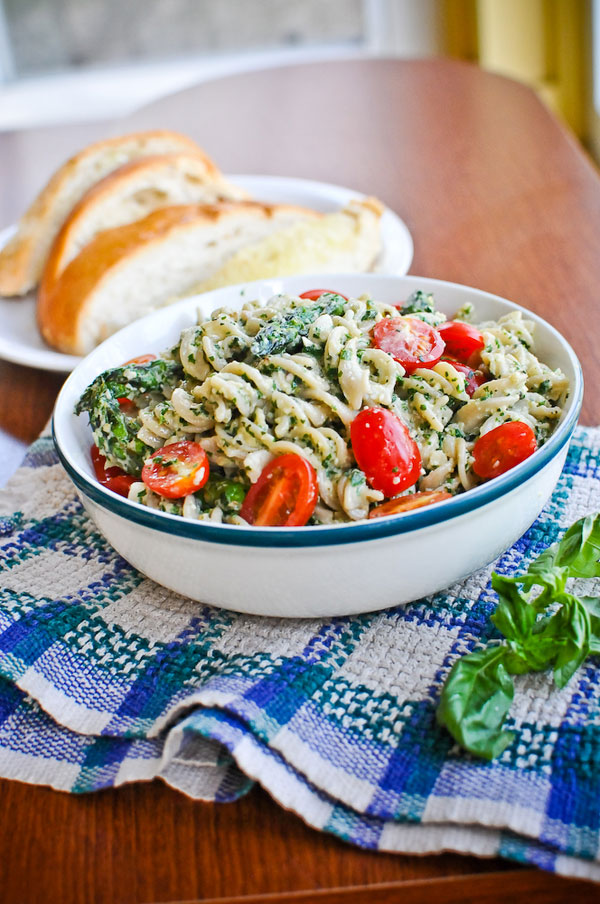 When it comes to spring and summer, you can't go wrong with pesto made with fresh basil. We love mixing it with veggies and pasta, just like we did in this easy vegan pesto with basil, walnut, and kale pasta dish.
9. Vegan Buffalo Wings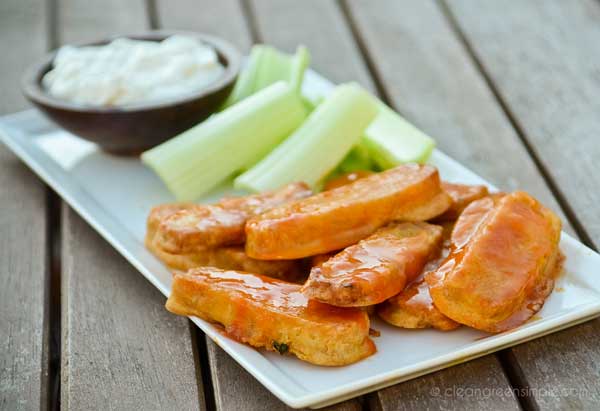 In just 20 minutes, you can whip up these vegan buffalo wings for your barbecue or picnic. The best part? The recipe can be made with cauliflower or tempeh, so there's something for everyone.
10. Crispy Baked French Fries
While making baked french fries might seems like a no-brainer, there are some tips and tricks for making them extra crispy. Plus, you can easily experiment with your favorite spices and seasonings, so anything goes.
11. White Bean Dip and Homemade Pita Chips
Impress your guests by making white bean dip and pita chips from scratch. The dip, which calls for just seven ingredients, can be easily adjusted based on your taste buds. Meanwhile, the pita chips take just 15 minutes to make!
12. Avocado Cilantro Lime Dip
If you couldn't tell, we're all about easy homemade dips. This four-ingredient avocado cilantro lime dip by Pumpkin and Peanut Butter is one of our favorites. Serve it with crackers, veggies, or pita wedges.
13. Cucumber Hummus Sesame Seed Bites
Deviled eggs may be a popular party appetizer, but these cucumber hummus sesame seed bites by Vegan Richa are perfect for your vegan menu. You can even mix it up and use fun toppings like sprouts or coconut bacon.
14. Beet, Oats, Garbanzo Bean/Chickpea Burger Sliders
These beet, oats, garbanzo bean sliders taste just as good as they look! In this tasty recipe, Vegan Richa served the sliders with multigrain buns and cashew basil pesto. Yum.
15. Vegan Portobello Mushroom Burger
These vegan Portobello mushroom burgers by Vegan Richa are not only stuffed with vegan mozzarella, but coated in breadcrumbs too! The recipe even includes a vegan mozzarella cream.
16. Carolina Pulled "Pork" Sandwich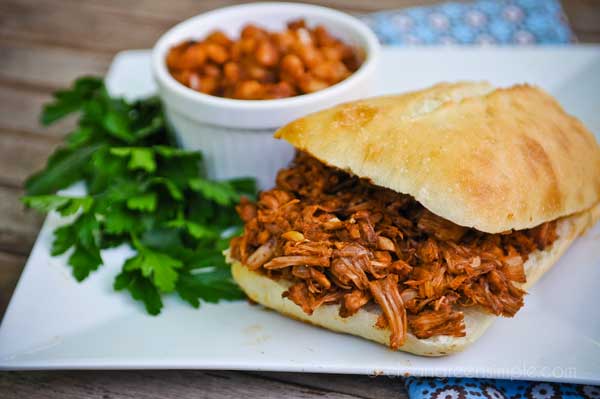 As one of the trendiest foods of the moment, jackfruit deserves a place in your vegan barbecue. These carolina pulled "pork" sandwiches, for example, can be made as regular-sized sandwiches or sliders.
17. Radish and Cucumber Salad
If you're looking for a quick and easy spring salad, make this radish and cucumber salad by The Simple Veganista. Between the peppery radishes and tangy apple cider vinaigrette, this dish will be a hit with your guests.
18. Basil Jalapeno Corn Fritters
These basil jalapeno corn fritters by Vegan Richa are gluten-free, soy-free, and flavorful, Serve it as an appetizer or side dish with a dip like vegan ranch dressing or guacamole.
19. Raw Strawberry Chocolate Tarts
Have 20 minutes to spare? Make these raw strawberry chocolate tarts for your Memorial Day barbecue. We're obsessed with the filing in this recipe; it's made with nutritious and filling ingredients like bananas and avocado.
20. Mango Smoothie Protein Popsicles
Now that it's finally warm enough to enjoy frozen treats, you can be sure that we'll be making these mango smoothie protein popsicles by The Simple Veganista. They call for just four simple ingredients, and are healthy enough to eat for breakfast.
21. Summer Cherry Berry Fruit Salad
Finally, to round out your barbecue menu, make this summer cherry berry fruit salad from The Simple Veganista. It features a deliciously unique combination of ingredients, including cinnamon, cardamom, mint, and lemon.