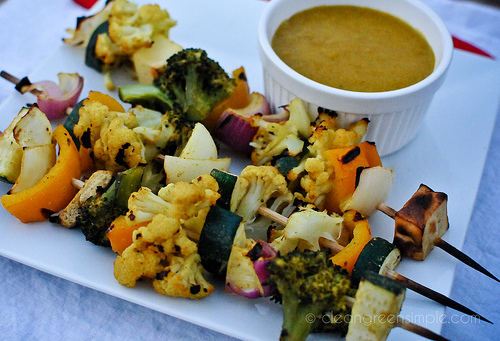 My husband Andrew always said he didn't like shish-kebabs. I kind of thought this was odd, since they are pretty flexible – you can really put anything on a stick and call it a kebab, right? Then I saw him trying to eat one – he left all the pieces of food on the stick and nearly stabbed himself in the throat trying to eat it. It was pretty adorable, really.
Once I informed him that you can in fact slide the food off the skewer and eat it with a fork he has loosened his kebab stance. He still seems suspect of them, like someone is just trying to make eating more difficult by putting sharp objects in his food, but I can get away with making them once in a while.
I, on the other hand, think kebabs are a great way to grill a bunch of different vegetables in nice bite-sized pieces, and this recipe that involves marinating them for a bit in a nice curry sauce really adds a flavorful twist to a standard veggie skewer. It's also easy, which you know I like.
First you just chop up some vegetables into medium sized chunks. I went with zucchini, cauliflower, broccoli, bell pepper, onion and mushrooms for these – you can really use almost any combination of vegetables as long as they hold together on a stick.
I bought large mushrooms and sliced them, but they sort of fell apart on the stick so I would recommend using smaller mushrooms and sliding them on whole, or just cut in half, so they are more substantial.
If you use heartier vegetables like broccoli, cauliflower, carrots, or potatoes, you may want to either steam or boil them for a few minutes before grilling so everything cooks at the same time. Once you've pre-cooked anything that needs it just toss all your vegetables in the marinade and let it soak for 30-60 minutes or so.
While the vegetables are marinating you should soak your skewers (if you are using wooden ones). This is very important because if you don't soak them they'll burn on the grill, and that's no fun. Since most skewers are pretty long I didn't have a bowl or dish they would fit in, so I used a rimmed cookie sheet and covered them with water (I laid a butter knife across them to weigh them down) – you could probably also use a casserole dish or any long shallow dish that fits your skewers. Soak them for at least 30 minutes, which times nicely with your veggies marinating.
Once everything is soaked and marinated, slide your vegetables onto the skewers. The order doesn't really matter, just mix it up and make them look nice. Then you can pop them on the grill at medium heat or under the broiler for about 2-3 minutes per side (I treated them as if they had 4 sides) until everything is just starting to char.
While those are cooking you can take the leftover marinade and pour it into a saucepan. Mix in a tablespoon of cornstarch or arrowroot and heat over medium until it thickens and you've got yourself a lovely dipping sauce to go with your veggies!
This goes great with pita chips and bean dip, or you could serve it over rice. Just please don't stab yourself trying to eat them right off the skewer!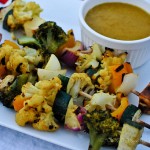 Curry Marinated Vegetable Kebabs
Vegan, Gluten Free, Low Fat, Refined Sugar Free, Soy Free You can really use any combination of vegetables you like, or follow the recipe as written.

Click stars below to rate, or leave a full review in the comments

Print Rate it Now Pin Recipe
Ingredients
1 Onion cut into 1" chunks
1 Bell Pepper cut into 1" pieces
1 medium zucchini cut into 1" pieces
8-10 small mushrooms left whole or cut in half
½ head of cauliflower cut into 1" pieces
½ head of broccoli cut into 1" pieces
For the marinade:
½ c. Chickpea garbanzo Flour
2 c. vegetable broth or water
2 Tbsp lemon juice
3 cloves garlic minced
½ tsp ginger minced (optional)
½ tsp Garam Masala optional, you could also use cardamom
1 tsp Curry Powder
¼ tsp paprika
¼ tsp Turmeric
1 tsp Cumin
Pinch Cayenne Pepper
Splash of Tabasco optional
1 tsp Salt
Pinch black pepper
1 Tbsp Arrowroot or Cornstarch
Instructions
If you are using wooden skewers, soak them in water for at least 30 minutes before grilling. Steam the cauliflower and broccoli for 10 minutes (or boil them for 4-5) until just slightly softened. Mix together all of the marinade ingredients in a large bowl and add chopped vegetables. Stir to coat and let sit for at least 30 minutes, stirring occasionally to evenly coat them.

Once everything is finished soaking/marinating, preheat the grill (to medium heat) or broiler. While it is heating slide the vegetables onto the skewers, distributing them evenly. If using the grill, make sure to grease the grate well so the vegetables don't stick and grill them for about 2-3 minutes per side (rotate them as if they have four sides). If using the broiler, place them on a well-greased cookie sheet and broil them for 2-3 minutes per side (again, four sides).

While the kebabs are grilling, pour the leftover marinade into a saucepan (remove any leftover vegetables first) and add 1 Tbsp arrowroot or cornstarch. Heat over medium heat, stirring frequently, until it thickens to a thick gravy consistency. Pour into a serving dish and use as a dipping sauce for the vegetables.