Spaghetti squash pasta works really well as an alternative to traditional flour-based spaghetti noodles and lots of Italian-inspired pasta dishes and casseroles.
The taste is earthy yet sweet, with a slight crunchiness to it (provided you don't overcook it!). Swap out regular pasta noodles for this healthier version that's vegan, gluten-free, and low in carbohydrates and fat.
And it's so fun! I don't know about you, but I wouldn't see this:
…and think "Yeah, if I cut that open and bake it, it will look like a great pasta substitute!" I'd expect it to be like a pumpkin or a butternut squash or something, with flesh that is more meaty than stringy.
Knowing it's stringy and not meaty might not sound all that appetizing either. But I can assure you it's very tasty!
I wouldn't go so far as to say it actually tastes like pasta, but it does work quite well in place of noodles in casseroles, or just on a plate with marinara sauce.
How to Cut Spaghetti Squash
A big spaghetti squash can look a little daunting when it comes time to cut it. But fear not, there's a simple trick to doing it safely (but be careful!).
The first thing you'll need is a good chef's knife that's large enough to cut through the squash.
To cut the spaghetti squash, create a flat surface on each end by cutting them off. Then stand the squash upright on top of a dishtowel to keep it from sliding around. Once it's stable, carefully slice down the middle to create two equal-sized halves. If the skin is thick or tough, you may need to create some perforations along the length to get things started.
How to Cook Spaghetti Squash in the Oven
Spaghetti squash is really easy to prepare. The oven does most of the work.
1. Start by cutting the spaghetti squash in half, lengthwise, using the method above.
2. Next, scoop out the seedy part in the middle. So far it looks like a regular squash, right?
3. Chop up some garlic and spread it all around the inside. You can also spread a little bit of olive oil over the insides. Don't use too much oil or you'll make it soggy. Feel free to add a little salt at this point, too.
Note: the squash in this photo did not actually change color as I prepared it. I may want to work on my color processing consistency. Or buy magical color-changing vegetables so I don't have to feel responsible.
4. Next, place the halves cut side up on a cookie sheet and roast for about an hour at 375 degrees until you can easily scrape the fleshy part down with a fork. It should look something like this:
OK, this time it had actually gotten darker in the hour it was in the oven, so the weird color thing isn't quite my fault.
Some folks recommend cooking the squash cut side down to get good caramelization on around the edges. I tried that method and the squash came out too soggy for me, which I felt was due to the steam being trapped inside. Your mileage may vary, but if you choose to cook it cut side down, I'd suggest reducing the cooking time from 60 minutes to 45 minutes.
5. Scrape as much of the flesh into strings as you can and then stir it all together to mix the garlic around. Scoop it onto a plate.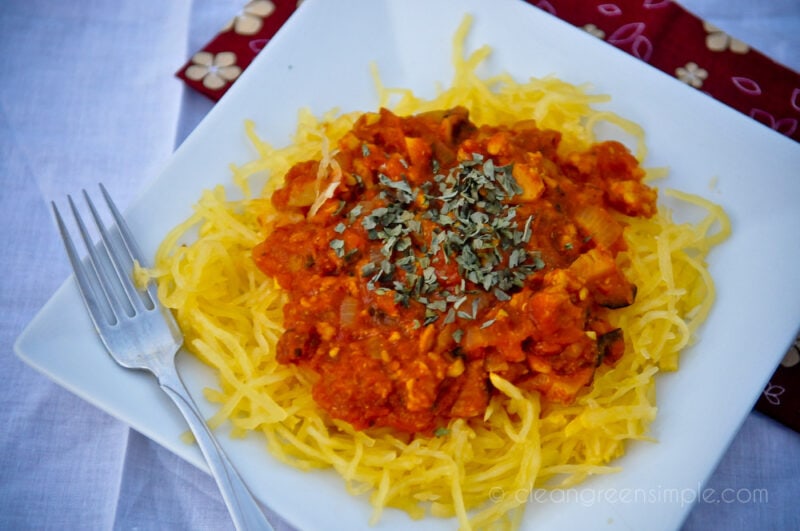 I'd say one squash makes enough "pasta" for about 4 servings) and top with your favorite pasta sauce. Best of all, this delicious dish is vegan, low carb, low calorie, gluten-free!
How Long Does It Keep?
A whole, uncooked spaghetti squash can be stored for a couple months in a cool, dry location such as the pantry. So if you see a nice one at the grocery store or you get one from your garden, no need to cook it right away.
Once you've baked it in the oven, store any leftovers in an airtight container in the refrigerator and store for 3-5 days.
Serving Suggestions
My favorite way to serve spaghetti squash is as…well, spaghetti. Simply scoop your spaghetti squash noodles on a plate, cover in marinara sauce and enjoy. Here are several options for marinara/red sauce recipes:
Spaghetti squash "pasta" is also great tossed with some vegan butter and a little salt and pepper, topped with Alfredo sauce, or substituted in any other dishes that traditionally call for spaghetti noodles.
How to Cook Spaghetti Squash Pasta in the Oven
This spaghetti squash pasta recipe works really well in place of noodles in casseroles or just on a plate with marinara sauce. The taste is earthy yet sweet, with a slight crunchiness to it. Swap out regular pasta for this healthier version that's vegan, gluten-free, and low in fat.
Click stars below to rate, or leave a full review in the comments
Print
Rate it Now
Pin Recipe
Ingredients
1

spaghetti squash

8

cloves

garlic

1

tsp

olive oil

just enough to lightly coat the squash

your favorite marinara sauce
Instructions
Preheat oven to 375 degrees.

Cut squash in half and scoop out the seedy insides. Lightly coat exposed squash with olive oil. Roughly chop garlic and spread all around the inside of the squash.

Bake for about an hour, or until you can easily pierce the squash with a fork.

Remove from oven and let sit for 10 minutes.

Using a fork, scrape the flesh away from the skin and stir to mix in garlic pieces. Scoop onto a plate, cover with marinara sauce and serve immediately.
Notes
Don't add the sauce until right before you serve it or the squash will get too soft.

Nutritional information for this recipe is an estimate automatically calculated by the Spoonacular food database and does not include optional ingredients.
Nutrition
Calories:
93
kcal
|
Carbohydrates:
19
g
|
Protein:
2
g
|
Fat:
2
g
|
Saturated Fat:
1
g
|
Sodium:
42
mg
|
Potassium:
285
mg
|
Fiber:
4
g
|
Sugar:
7
g
|
Vitamin A:
290
IU
|
Vitamin C:
7
mg
|
Calcium:
66
mg
|
Iron:
1
mg