OK – I know I posted an Easy Marinara Sauce recipe before, but given that it involved chopping half a dozen different veggies, I feel like I may have been exaggerating the "easy" part just a little. Don't get me wrong – it's super delicious and healthy, it's just not as simple as it gets. This vegan marinara, on the other hand – not sure how it could get easier. I guess, technically, buying a commercial brand of pasta sauce is easier, but not by much, and this is way healthier and more delicious.
Just open up a big can of crushed tomatoes and a can of diced tomatoes (technically you don't even need the diced tomatoes, but I like a little chunkiness to my marinara sauce). Dump them in a pot. Add a few dried spices (I'm not even making you chop garlic! But if you have a hankering to chop something by all means use fresh) and you're good to go!
I don't even have any progress photos because there's pretty much no progress aside from opening a can or two and twisting the lids off some spices. My one suggestion is to start this sauce when you start the water boiling for the noodles – if it gets at least a good 20-30 minutes of simmering time it's very happy.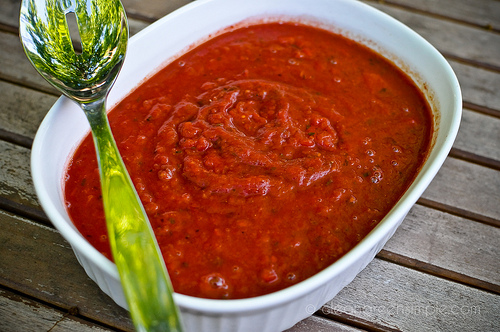 I know there's a million recipes for marinara sauce on the internet, but I wanted to add my contribution – I think it's pretty delicious! Plus, I'm going to be giving you a recipe for a crazy good Eggplant Parmesan next week and I figured it would be nice to link to a homemade marinara sauce to go with it.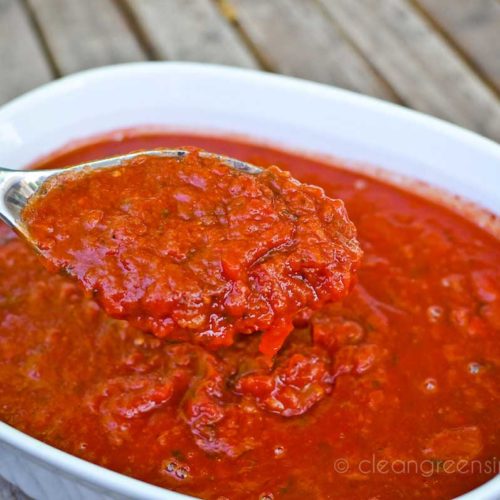 Super Easy Vegan Marinara Sauce
Vegan, Gluten Free, Soy Free, Low Fat, Refined Sugar Free
Click stars below to rate, or leave a full review in the comments
Print
Rate it Now
Pin Recipe
Ingredients
1

28 oz. can crushed tomatoes

1

15 oz. can diced tomatoes

1

tsp

dried parsley

1

tsp

dried basil

1

tsp

dried oregano

1

tsp

salt

½

tsp

garlic powder

feel free to use 2-3 cloves fresh

½

tsp

onion powder

feel free to use 1/2 a fresh onion, minced

Pinch

red pepper flakes

add a few pinches if you like your sauce to have a little heat

Pinch

black pepper

to taste
Instructions
Combine all ingredients in a saucepan and heat over medium heat until boiling, then reduce heat and simmer for at least 20 minutes, up to an hour.