Tofu is a great source of protein and a valuable source of iron for those following a vegan diet. But cooking this food can be tricky and time-consuming, which has led many to wonder if they can just eat tofu raw.
In this article, we'll break down the surprisingly complicated question of 'do you have to cook tofu' and tell you what you need to know to avoid food poisoning when dealing with uncooked tofu. We'll also give you our tips for preparing cooked tofu and some of our favorite hacks for using raw tofu.
So, Can You Eat Tofu Raw?
Yes, you can eat raw tofu. And by 'raw,' I mean you can take tofu out of the package and eat it without frying it up first. But the truth is, tofu is never really raw.
Making tofu requires boiling soybeans to separate the solids from the milk product. Coagulants such as calcium or magnesium salt are added to the milk to form curds, which are then pressed into that familiar tofu shape. All of this is done at high temperatures.
Once the block is formed and cooled, commercial tofu is pasteurized using high heat.
All this is to say, the tofu you've purchased from the grocery store is already cooked. Because of this, you can eat tofu straight out of the package without cooking it at home first.
Can Raw Tofu Give You Food Poisoning?
The multiple heat treatments tofu undergoes before packaging makes it relatively safe to eat without cooking it first.
Unlike raw meat, this valuable protein source is not likely to harbor dangerous bacteria, which means food poisoning from tofu is rare. This is especially true of freshly purchased raw tofu straight out of the package.
Of course, there is always a possibility that bacteria were introduced into the product after pasteurization. The most likely culprits for this are Yersinia enterocolitica, Listeria monocytogenes, and Clostridium botulinum. Fermented tofu, which is different from commercial products and is not pasteurized after production, is the most likely type to carry dangerous bacteria.
Luckily, proper storage of your tofu—in the fridge at temperatures below 40 degrees Fahrenheit—should prevent bacteria from growing.
Leftover raw tofu that has been removed from the original package should also be stored carefully in the refrigerator. Be sure to use leftovers within 3 to 5 days.
Benefits of Eating Tofu—Raw or Cooked!
Because uncooked tofu is already heat-treated before it's packaged, the health benefits are about the same between cooked and raw tofu.
Both types are a good source of nutrients, including vitamin B1, calcium, and manganese. They are also an excellent source of protein and have more iron per serving than your average portion of raw meat.
Tofu also contains all essential amino acids, making it a complete protein. This is one reason cooked and uncooked tofu are great choices for those following a plant-based diet.
In terms of the benefits of tofu in raw form, it really all comes down to convenience. When you use tofu raw, you don't have to waste time or energy breaking out the frying pan. That means all the same great benefits in a fraction of the time.
Additionally, eating raw tofu can help reduce the need for added oils and fats.
However you choose to use it, tofu is a great addition to your healthy diet.
Tofu Cooking Tips
One reason many people prefer to use raw tofu is because it can be hard to cook. If this describes you, here are a few tips that may help up your tofu cooking game.
Buy the right kind. Silken tofu is best used as an additive to thicken sauces or to make desserts, but this mushy tofu is not great to cook with. Soft tofu is a little coarser but is still best for adding to sauces, desserts, or for frying up into a tofu scramble. Firm or extra-firm tofu are the best candidates to use as meat replacers or to dice up and fry.
Drain excess water. All tofu comes packaged in a water bath to help extend its shelf life. No matter how you're going to use your tofu, you'll want to drain this excess water. To further reduce the water content, use a towel to dry the block of tofu.
Press if needed. If you're planning to cut and fry your tofu, you'll want to take the time to press it to remove even more water. This is a necessary step to allow the tofu to absorb sauces and flavorings. Use a tofu press for a minimum of 30 minutes to assure as much moisture is removed as possible.
Marinate if desired. Marinating your tofu overnight is highly recommended. After the block is pressed, put the raw tofu into a Tupperware or bag filled with marinade and store it in the fridge for a few hours, or overnight.
Season it! Freshly cubed tofu has a very neutral flavor which is perfect for soaking up the flavors of the dish. But if you don't add enough seasoning, your final product will be bland and tasteless. Black pepper and salt are a good start but don't be afraid to get creative.
Cook each side until crispy. Get your pan hot before adding your tofu, then cook each side on medium heat for about 2 to 3 minutes or until crispy brown. Tossing your tofu cubes in seasoned cornstarch or flour can help improve the final texture.
Frying fresh tofu is the easiest way to cook it, but it's not the only way. You can also air fry tofu, bake it, or grill it!
How to Use Raw Tofu
If you want an easier way to add nutritious tofu to your diet, using it raw is a great way to go. Any type of tofu–soft or hard–can be eaten raw, but silken works the best in most situations.
Here are some of our favorite raw tofu recipes and prep methods.
Tofu smoothie. Tofu is a great source of protein and an easy and inexpensive way to add more protein to your morning smoothie.
Tofu ice cream. Silken tofu can be used as a base for vegan ice cream. Here's an easy recipe to get you started.
Silken tofu block. The high moisture content and smooth texture of silken tofu make it the perfect base for tofu block appetizers. Here is a great savory option.
Add it to a salad. Seasoned tofu crumbles are a great way to add protein and texture to a salad.
Vegan egg salad. This recipe is one of our favorite raw tofu go-to's.
The Last Word on Raw Tofu
Uncooked tofu provides a great source of protein and an excellent source of iron for any diet. As long as you store your uncooked tofu properly and prepare it carefully to remove excess moisture, tofu can be safely used both raw and cooked in a variety of recipes.
If you plan to consume raw tofu, we recommend purchasing organic, non-GMO tofu to maximize the health benefits for you and the planet.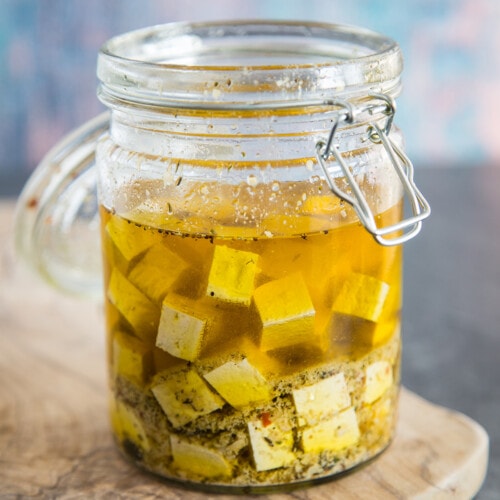 Easy Marinated Tofu
Tofu is a versatile food that can be prepared a number of ways, including raw. Use this savory marinated raw tofu in salads, wraps, or as a snack.
Click stars below to rate, or leave a full review in the comments
Print
Pin Recipe
Ingredients
6

oz

firm tofu

Pressed and cut into cubes

2

cloves

garlic

Minced

2

tbsp

nutritional yeast

1

sprig

thyme

Use 1-2 sprigs, depending on the size of the sprigs

1

lemon

½

tsp

sea salt

¼

tsp

black pepper

Cracked

1

cup

olive oil

Extra virgin
Instructions
Press tofu to remove as much excess moisture as possible before cutting it into cubes. Add tofu to a clean glass jar.

Insert thyme sprigs, garlic, nutritional yeast, salt, pepper, and lemon juice.

Fill the jar with olive oil until tofu is submerged. The amount of oil will depend largely on the shape of the jar. Close the lid and shake to combine the ingredients together.

Leave the tofu to marinate in the fridge for at least 4 hours. Add to salads and wraps, or enjoy as a snack.
Notes
If you do not have a citrus juicer, you can squeeze the lemon by hand.
As long as the tofu remains submerged in the oil, it can be stored in a fridge for up to a week.
Once you've eaten the tofu, don't discard the oil mixture. It makes an excellent simple salad dressing. Alternatively, you can use it as flavored cooking oil.
Recommended Tools & Products
Nutrition
Calories:
538
kcal
|
Carbohydrates:
6
g
|
Protein:
6
g
|
Fat:
56
g
|
Saturated Fat:
8
g
|
Polyunsaturated Fat:
7
g
|
Monounsaturated Fat:
40
g
|
Sodium:
294
mg
|
Potassium:
122
mg
|
Fiber:
2
g
|
Sugar:
1
g
|
Vitamin A:
19
IU
|
Vitamin C:
15
mg
|
Calcium:
65
mg
|
Iron:
1
mg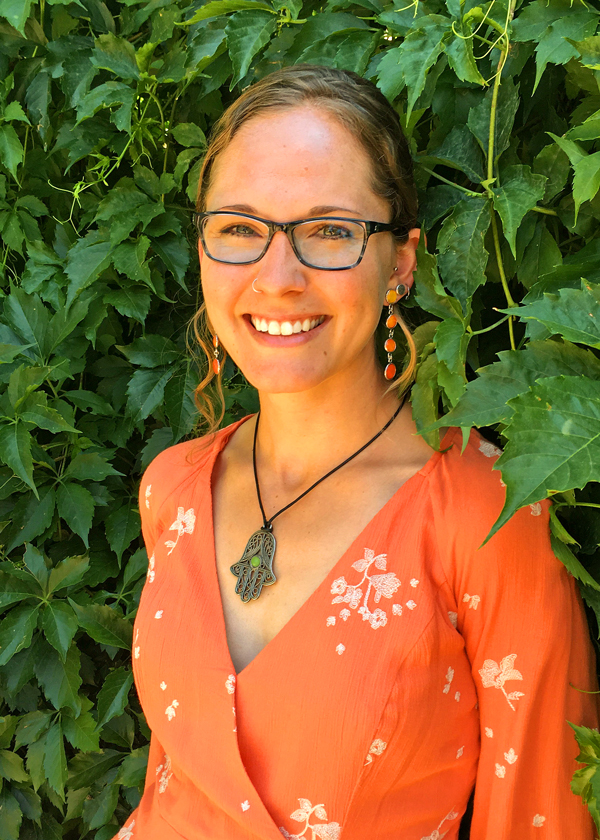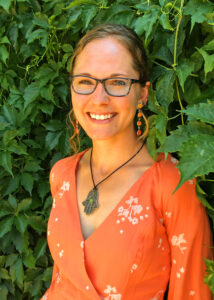 About the Author
Sara Seitz is a freelance writer living with type 1 diabetes. Her search for better health and better control of her blood sugars led her to a plant-based diet. When she isn't experimenting with new vegan recipes, she's helping spread the word about how plant-based is better for people and the planet. More articles by Sara.