The vegan world simply wouldn't be complete without tofu. From vegan tofu scramble to homemade vegan sushi, this tasty plant protein is the epitome of versatility! You can enjoy tofu right out of the package or in a wide variety of sweet and savory dishes.
We've got a great recipe below for making healthy and crispy baked tofu, but before we get to that, have you ever wondered what tofu is, exactly?
What is Tofu?
Tofu, also known as bean curd, is food made by mixing soy milk (a prepared mixture of water and soybeans) with a coagulant to produce curds, which are then pressed into dense blocks in a process that's similar to traditional cheesemaking. The coagulant, in this case, is called Nigari, a mineral-rich substance extracted from seawater that helps the tofu solidify and retain its form.
There are several types of tofu you can buy, and the difference between them essentially comes down to how much water is pressed out. The more water that's pressed out, the firmer the tofu. From least firm to most firm, here are the most common types of tofu:
silken
soft
medium
firm
extra firm
super firm
Even with firm tofu, some dishes require additional pressing to get out as much water as possible. That's the case in our crispy baked tofu recipe below, in which we use a simple method of wrapping the tofu in a paper towel and setting heavy objects on it to squeeze out excess water. If you're pressing tofu frequently, however, you'll probably want to invest in a good tofu press.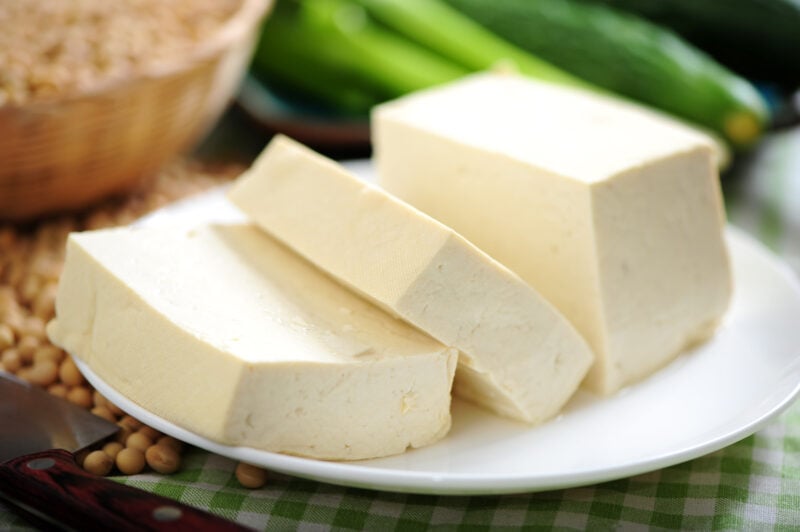 Tofu is healthy, too. It's high in protein but low in calories because it doesn't have any excess fat. According to Registered Dietician, Ansley Hill, RDN, LD, soy-based foods like tofu are considered complete proteins, meaning "they contain all nine essential amino acids you need to build and repair any protein-containing tissues in your body." This makes tofu a very popular food for those on a vegan or vegetarian diet.
How Can Tofu Be Used?
Tofu is a versatile food that works well in both sweet and savory dishes. It has the ability to soak up flavors, making it easy to add flavorings without having any overpowering tastes from other ingredients. Here are some of our favorite tofu dishes:
How to Cook Tofu
One of our favorite (and most versatile) ways to prepare tofu is to coat it in cornstarch and bake it in the oven. The result is wonderfully crispy tofu that we simply can't get enough of, and since it's not fried in oil it's much healthier.
The finished product works well in a wide variety of dishes, including rice bowls, tacos, and salads. You can even toss crispy tofu with your favorite sauce and enjoy it as a snack.
Ready to get started?
First, you'll need one package of extra-firm tofu, oil of your choice, cornstarch, salt, and pepper. Make sure to drain the tofu completely. You can also use flour in place of cornstarch, but it won't get as crispy. So, we recommend using cornstarch!
Step One: Slice the tofu into bite-sized pieces. If you're using the tofu for a sandwich, like a vegan BLT, feel free to cut the tofu into slabs instead. You can even cut the tofu into tiny pieces to make salad crumbles.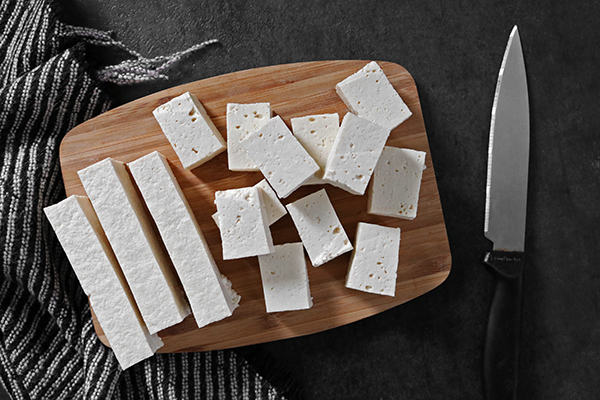 Step Two: Wrap the tofu in a clean dish towel or paper towel. If you're using paper towels, you'll likely need several sheets. Remember, this step is extremely important. Tofu can hold a lot of liquid, so it's essential to press it as well as possible. Otherwise, the finished product may end up a bit soggy.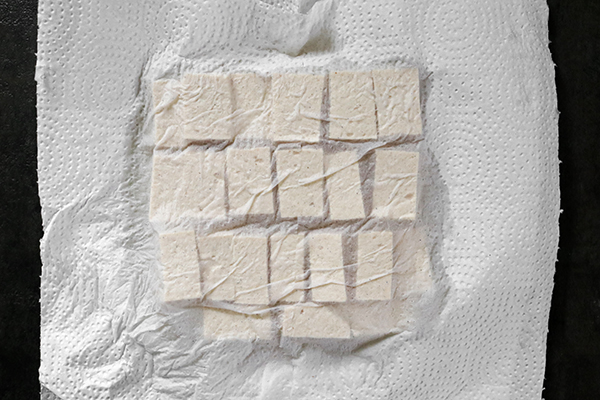 Place a few heavy items on top. Canned goods, books, or your cast iron pan work well. Let sit for at least 30 to 45 minutes. The longer you press the tofu, the better.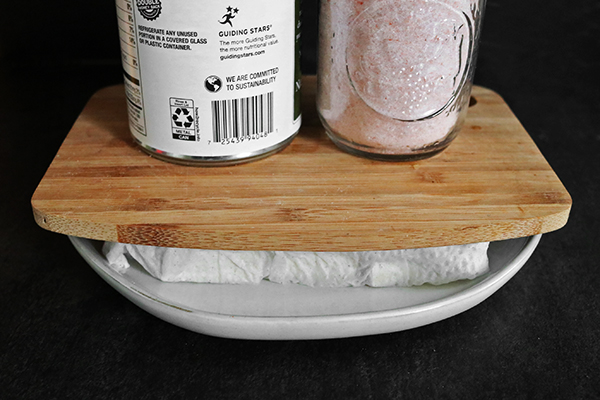 Step three: When the tofu is ready, pre-heat the oven to 400 degrees Fahrenheit. Place the tofu in a bowl or on a plate. Drizzle oil and gently toss. For this recipe, we used light-tasting olive oil.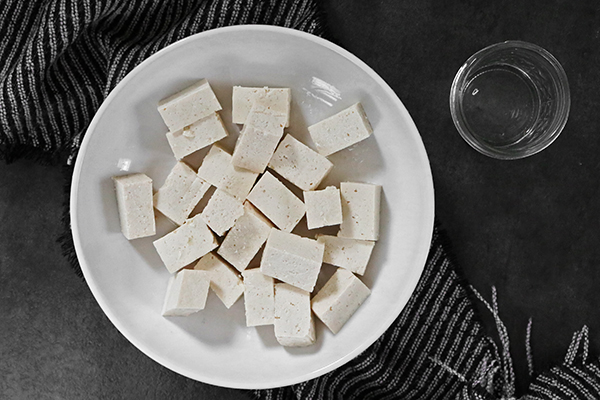 Step four: In a separate bowl, mix the cornstarch, salt, and pepper. Adjust the salt and pepper according to your preference. You can also add other spices like garlic powder, dried oregano, or paprika. Anything goes when it comes to homemade crispy tofu.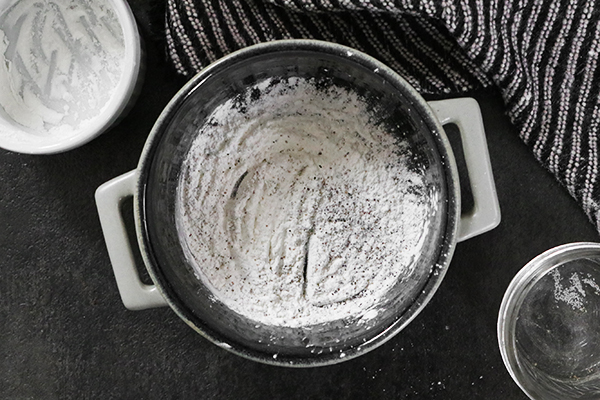 Step five: Carefully roll the tofu in the cornstarch mixture until each side is lightly coated.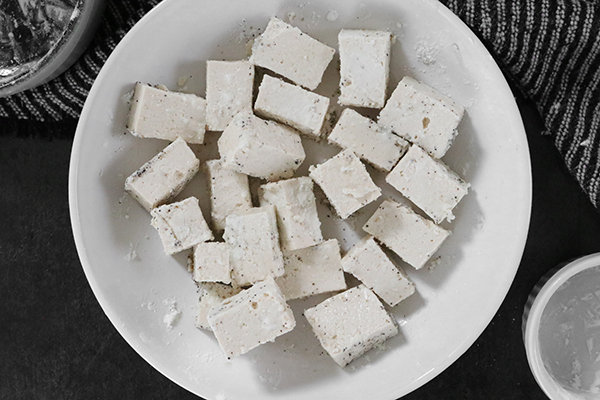 Step six: Place the tofu on a metal baking sheet lined with parchment paper. Bake for 35 minutes or until light brown and crispy, flipping once halfway through.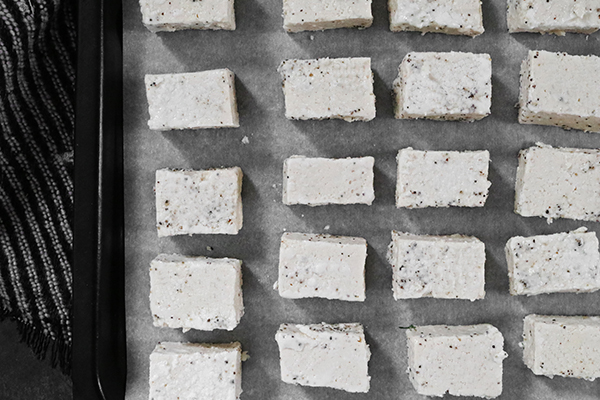 The tofu is ready once it's golden brown and sizzling. How easy was that? The possibilities are endless from here. Toss it in a salad, add it to a rice bowl, or make vegan tacos. You can even just eat it by the handful… we won't judge!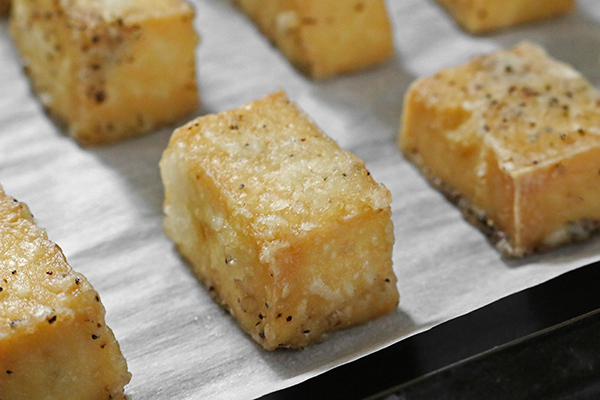 Now that you know how to make this crispy baked tofu recipe, you'll find that it can be incorporated into dozens of your soon-to-be-favorite plant-based meals!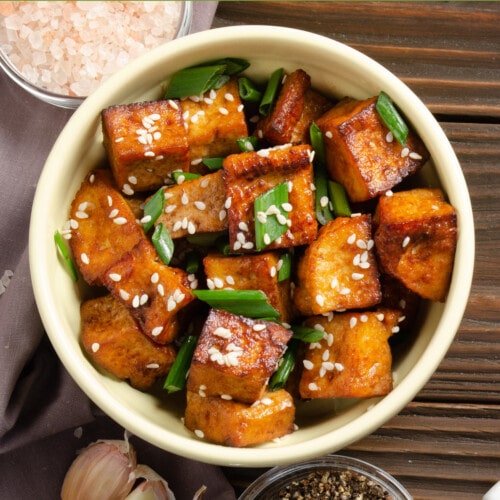 How to Cook Tofu
What is tofu? It's just the most important staple in plant-based eating, that's all! Learn how to cook tofu with this step-by-step tutorial for Crispy Baked Tofu. Toss it with your favorite dish or eat it as a snack!
Click stars below to rate, or leave a full review in the comments
Print
Rate it Now
Pin Recipe
Ingredients
12

ounces

extra-firm tofu

1

tablespoon

olive oil

4 to 5

tablespoons

cornstarch

1/2

teaspoon

salt

1/4

teaspoon

ground black pepper
Instructions
Cut the tofu into bite-sized pieces. Feel free to cut the tofu into different shapes, depending on the dish in which you'll be using it

Wrap in a paper towel or clean rag and add a heavy object on top. Let sit for 30 to 45 minutes or until the liquid is completely pressed out of the tofu.

Pre-heat the oven to 400 degrees Fahrenheit. Drizzle the oil on the tofu and carefully toss until evenly coated.

In a bowl, combine the cornstarch, salt, black pepper, and spices of your choice.

Gently roll the tofu in the cornstarch mixture until completely coated. You can also add other spices like garlic powder, dried oregano, or paprika.

Place the tofu on a metal baking sheet lined with parchment paper. Bake for 35 minutes until light golden brown, flipping once halfway.
Nutrition
Calories:
217
kcal
|
Carbohydrates:
18
g
|
Protein:
13
g
|
Fat:
10
g
|
Saturated Fat:
1
g
|
Polyunsaturated Fat:
3
g
|
Monounsaturated Fat:
6
g
|
Sodium:
690
mg
|
Potassium:
266
mg
|
Fiber:
1
g
|
Sugar:
2
g
|
Vitamin A:
1
IU
|
Calcium:
55
mg
|
Iron:
2
mg