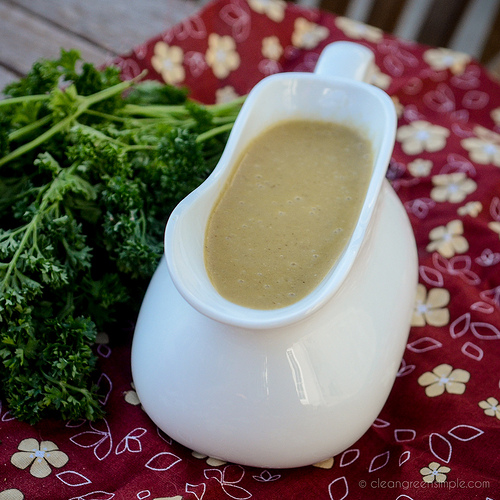 My first attempt at making vegan gravy was, to put it nicely, gross. A weird blend of broth, spices, and nutritional yeast, it was kind of orange and runny and just generally nothing anyone would want to eat. Certainly nothing you'd want to serve to your omnivore friends unless you wanted to really convince them that vegans are crazy. This gravy, on the other hand – wow. Worlds better. I actually served it this past Thanksgiving and everyone was asking for seconds and thirds.
I usually go with a bag of frozen mixed mushrooms for this both for cost effectiveness and convenience, but I've made it with fresh mushrooms and they work too. Either way, you just throw 'em in a pot with about three cups of broth and one of water (technically I'm sure you could use all broth or all water, this is just the ratio I like to use) and boil them for maybe 20-30 minutes until the mushrooms are nice and soft. You can also add some roughly chopped onion and garlic and let that simmer along with the mushrooms – you'll be blending it later so you don't even need to work that hard chopping them fine.
I had just added the onions when I took that photo so they are all on top – there's actually lots of mushrooms under there too! Once everything has boiled for a bit, stir in a quarter cup of flour – I used brown rice flour, I think most flours would work – along with some salt, white pepper, and nutritional yeast (I couldn't resist using a little…) and blend it all together with an immersion blender or by transferring it to a regular blender a little at a time. Please keep in mind that hot liquid expands when you blend it so be very careful. Either way, you'll end up with a mixture like this:
Hey, it looks like gravy! At this point you have a couple of options – you can call it done it as it is, let it simmer longer to thicken more, or add about 3/4 cup soy milk to make it a little bit lighter and creamier. If you do this you'll probably want to let it simmer another 10-20 minutes to thicken up a bit, or add a little more flour or cornstarch if you're impatient.
This makes about 3 cups of gravy, depending on how long you let it boil down. It's also really flexible – use different seasonings, different amounts, it's not finicky. It keeps well in the fridge for at least a few days – mine has never lasted longer than that because it's too good to resist eating!
Try it on our classic vegan mashed potatoes recipe.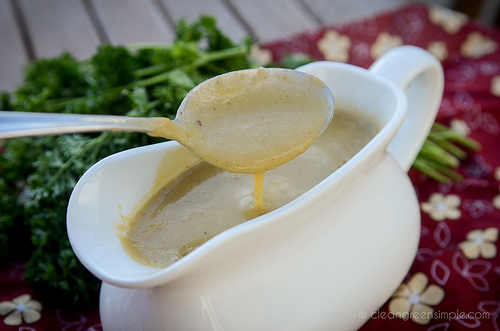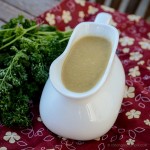 Mushroom Gravy
Vegan, Gluten Free, Soy Free if you omit soy milk, Refined Sugar Free, Low Fat
Click stars below to rate, or leave a full review in the comments
Print
Rate it Now
Pin Recipe
Ingredients
1 10-12

oz.

bag of frozen mixed mushrooms

or about 8-10 oz fresh mushrooms roughly chopped

3

cups

vegetable broth

you can use water if preferred but broth adds a little more flavor

1

cup

water

3-4

cloves

garlic

roughly chopped

½

an onion

roughly chopped

¼

cup

brown rice flour or other flour

1

tsp

salt

¼

tsp

white pepper

1-2

Tbsp

nutritional yeast

optional but it does add a nice flavor

¾

cup

soy milk

optional
Instructions
Add mushrooms, broth, water, onion, and garlic to a medium saucepan over medium heat. Heat, stirring occasionally, for about 20-30 minutes until the onions and mushrooms have softened.

Add remaining ingredients to the saucepan and blend until smooth with an immersion blender or regular blender (be careful with hot liquids in a regular blender, only use a little at a time or it'll overflow)

If desired, add soy milk. Let simmer until it gets to the desired thickness. Serve immediately or keep in fridge and reheat when necessary.