Up until recently, protein was often associated with animal products. But as vegan and vegetarian eating becomes increasingly popular, plant-based protein sources have (finally) gotten the chance to shine. These plant proteins are especially useful for creating healthy, wholesome recipes for breakfast—a meal that can set the tone for your entire day.
After all, most breakfast meats are overly processed and salty. Why not switch them out for these nutritious high protein vegan breakfast recipes instead? Whether you're trying to eat more plants or gearing up for a busy day, these tasty meals will have you covered.
1. Scrambled Tofu Breakfast Burrito
Vegan, Gluten-free | Total time: 40 minutes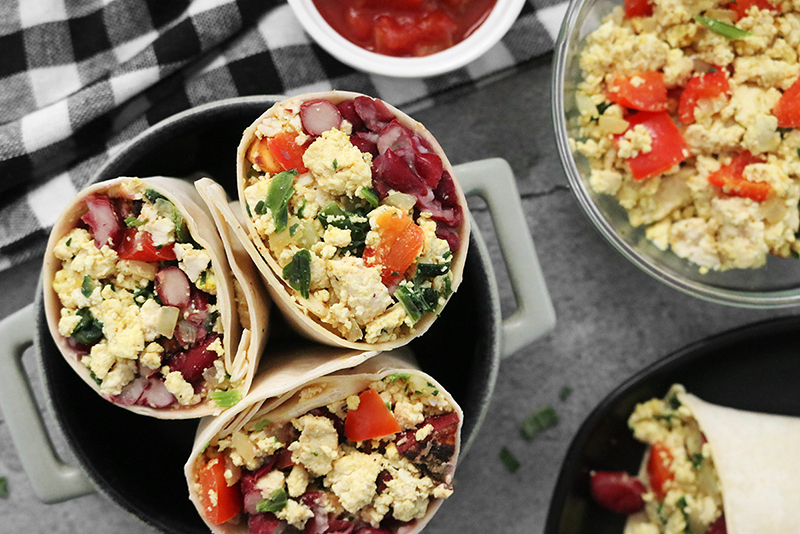 Put those leftover veggies to good use with a vegan scrambled tofu breakfast burrito. The recipe is ideal for meal prep, too. Simply cook up the fillings on a Sunday and enjoy for the rest of the week.
2. Easy Vegan Protein Pancakes
Vegan | Total time: 20 minutes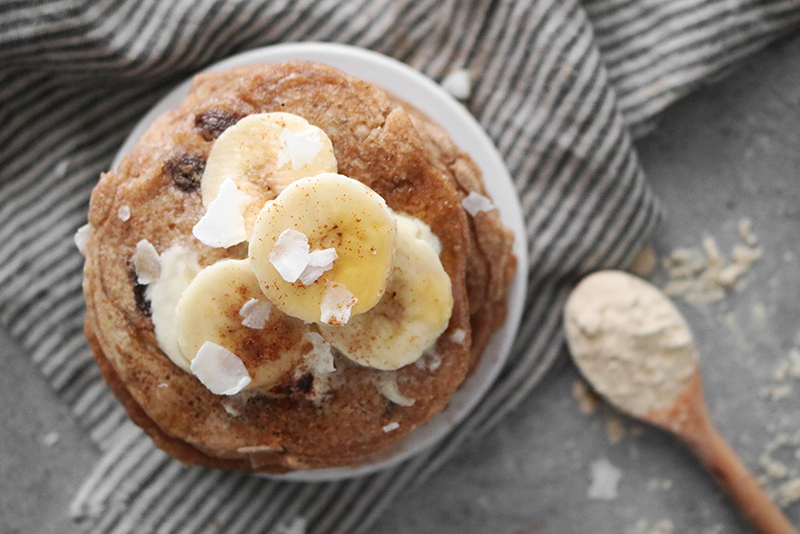 If you're looking for a cozy weekend breakfast, make these easy vegan protein pancakes. Customize them as much you'd like by adding tasty ingredients like coconut flakes, vegan chocolate chips, or dried fruit.
3. Bliss Balls
Vegan, Nut-free, Gluten-free | Total time: 5 minutes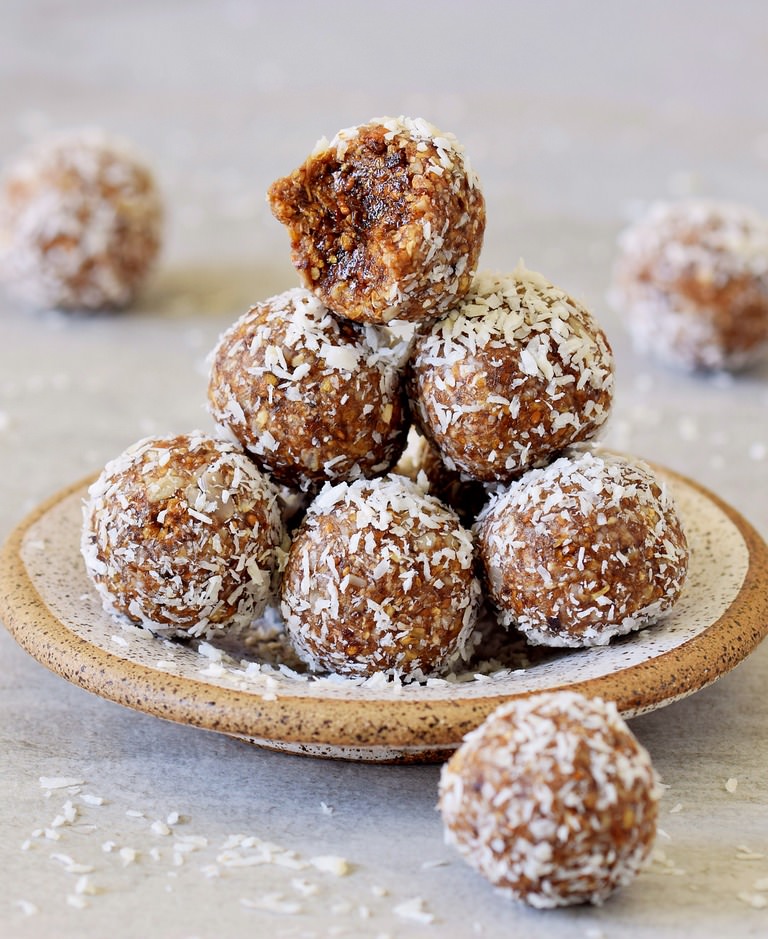 Also known as protein balls or energy balls, these bliss balls call for just five wholesome ingredients. Grab 'em in the morning when you're in a rush (or enjoy them as a snack).
4. Easy Vegan Omelette
Vegan, Gluten-free | Total time: 25 minutes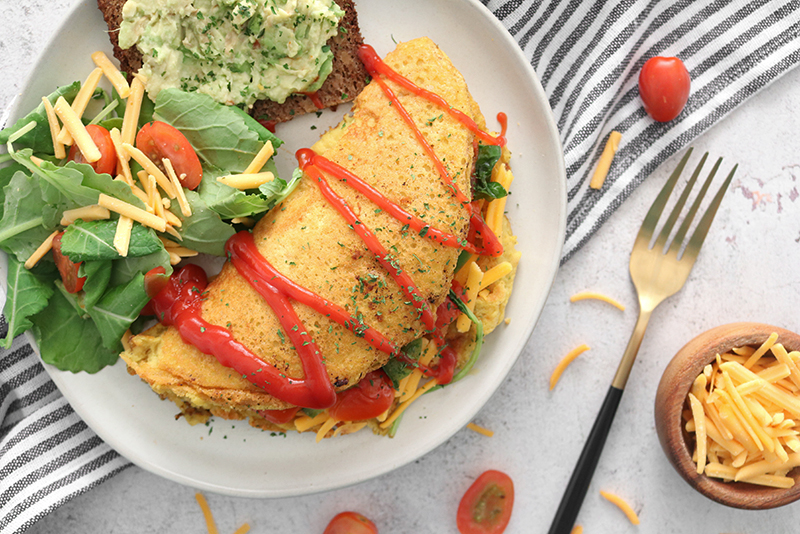 For a hearty, protein-filled breakfast, whip up this easy vegan omelette. With ingredients like chickpea flour and nutritional yeast, this recipe will surely hit the spot.
5. Spicy Vegan Breakfast Sausage
Vegan, Gluten-free | Total time: 2 hours 30 minutes
All you need is one bowl and 10 minutes of prep time to make this satisfying spicy vegan breakfast sausage. Eat it in a sandwich, serve it as a side, or crumble it up and add it to a chickpea omelette.
6. Tofu Bacon
Vegan, Gluten-Free | Total time: 2 hours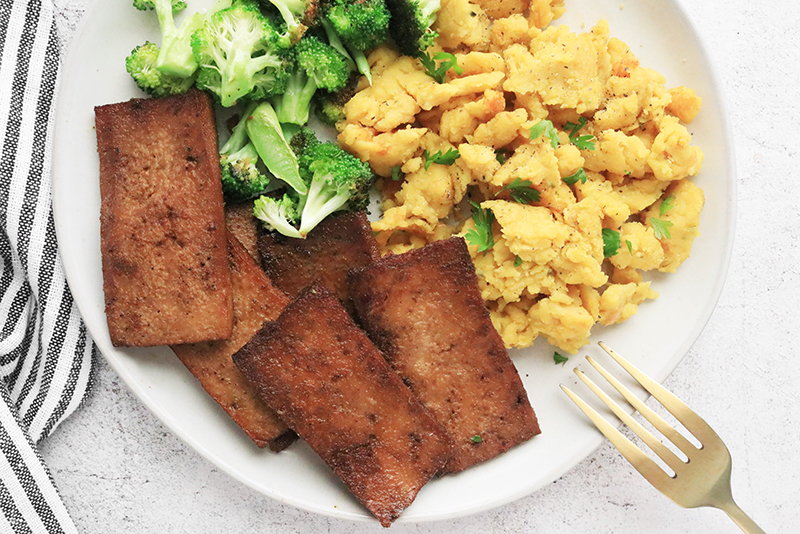 If you're more of a bacon fan, try this easy tofu bacon. With a delicious, smoky flavor, it's easy to make (30 minutes of prep) and easy to customize. Enjoy it in sandwiches, avocado toast, and more.
7. High Protein Baked Oatmeal
Vegan | Total time: 30 minutes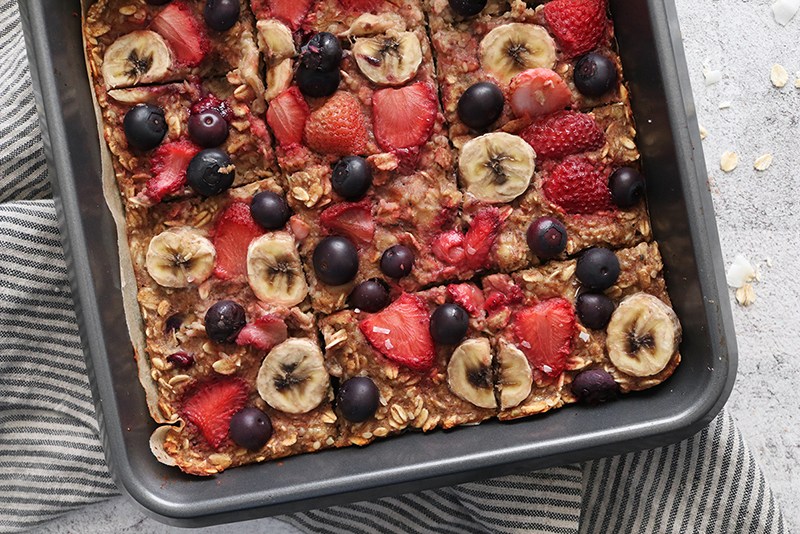 Long gone are the days of boring and bland oatmeal. Try this high protein baked oatmeal, which is loaded with fruit and vegan protein. Simply reheat and enjoy throughout the week.
8. Easy Vegan Protein Cookies
Vegan | Total time: 25 minutes
Cookies for breakfast? You bet. These easy vegan protein cookies feature simple, wholesome ingredients and bake in under 15 minutes.
9. No-Bake Carrot Cake Protein Bars
Vegan, Gluten-free | Total time: 1 hour 20 minutes
Instead of reaching for a pre-packaged, store-bought protein bar, make these no-bake carrot cake protein bars instead. They're made with real shredded carrots, along with vegan protein powder and coconut flakes. Yum.
10. Triple Berry Quinoa Breakfast Bake
Vegan, Gluten-free | Total time: 1 hour
If you need a break from oats, try this brilliant triple berry quinoa breakfast bake. Featuring complex carbs and plant-based protein, this hearty breakfast will keep you energized all morning long.
11. Sheet Pan Vegan Breakfast Burrito Bowl
Vegan, Gluten-free | Total time: 35 minutes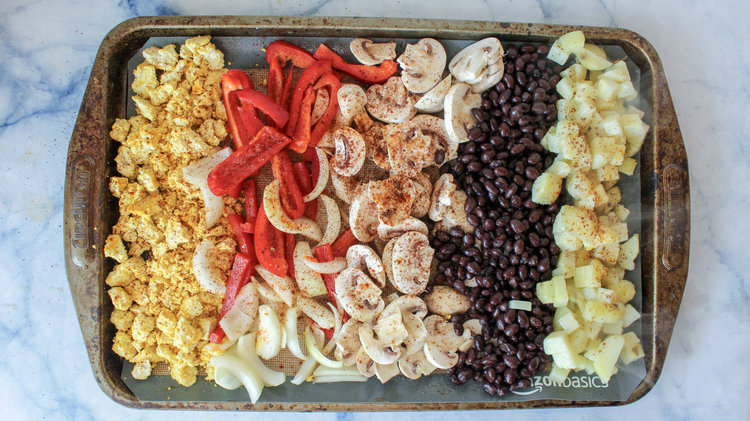 We're big fans of one-pan recipes, and this sheet pan vegan breakfast burrito bowl is no exception. Just assemble the ingredients on a sheet pan, bake, and dig in.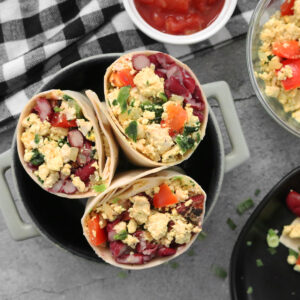 High Protein Vegan Breakfast Burrito (+10 Other Recipes)
These high protein vegan breakfast burritos are filled with tofu scramble, beans, and veggies. Try this or any of these delicious high protein vegan breakfast recipes today!
Click stars below to rate, or leave a full review in the comments
Print
Pin Recipe
Ingredients
Vegan Breakfast Burritos
¼

cup

onion

yellow or red, diced

½

cup

bell peppers

deseeded and diced

14

ounces

tofu

extra firm or firm, pressed

2

tablespoons

nutritional yeast

1

teaspoon

salt

1

teaspoon

garlic powder

¼

teaspoon

black pepper

¼

teaspoon

turmeric

¼

teaspoon

chili powder

15

ounces

kidney beans

1

potato

medium sized

1

tablespoon

Oil

4

tortillas

4-6 large sized
Instructions
Toss potatoes with oil, salt, and pepper. Roast at 450° Fahrenheit for 15 to 20 minutes, or until tender and golden brown.

In a large saucepan over medium heat, warm 1 to 2 tablespoons oil. Cook the onions and bell peppers, if using, for 5 to 7 minutes or until tender.

In a large bowl, crumble up the tofu with a large fork. Add to the saucepan, along with the spices and nutritional yeast. Cook for 5 to 7 minutes, crumbling further with a spatula. Add leafy greens, if using, and cook until wilted.

Place a large tortilla on a flat surface. Add a layer of beans, potatoes, tofu scramble, and other add-ins of your choice. Fold the sides toward the center, the fold up the bottom. Tightly roll into a burrito, tucking in the sides as necessary.
Nutrition
Calories:
410
kcal
|
Carbohydrates:
55
g
|
Protein:
26
g
|
Fat:
11
g
|
Saturated Fat:
1
g
|
Sodium:
800
mg
|
Potassium:
836
mg
|
Fiber:
12
g
|
Sugar:
4
g
|
Vitamin A:
620
IU
|
Vitamin C:
36
mg
|
Calcium:
192
mg
|
Iron:
6
mg