Planning a romantic dinner for you and that special someone can be fun and exciting. And while restaurants in some areas are beginning to reopen, they may not be at the stage yet where they're able to offer the kind of ambiance that sets the stage for a memorable, romantic evening.
Take-out is always an option, but why not make a homemade meal instead? Aside from enjoying dinner in the comfort of your home, you can also save money while personalizing the dish to your liking.
If you're looking for inspiration, check out our top picks for romantic vegan dinners. Whether you're celebrating the holiday with friends, family, or a significant other, you can be sure these recipes will make your stomach (and heart) happy.
1. Ratatouille
Vegan, Gluten-free| Total time: 1 hour and 30 minutes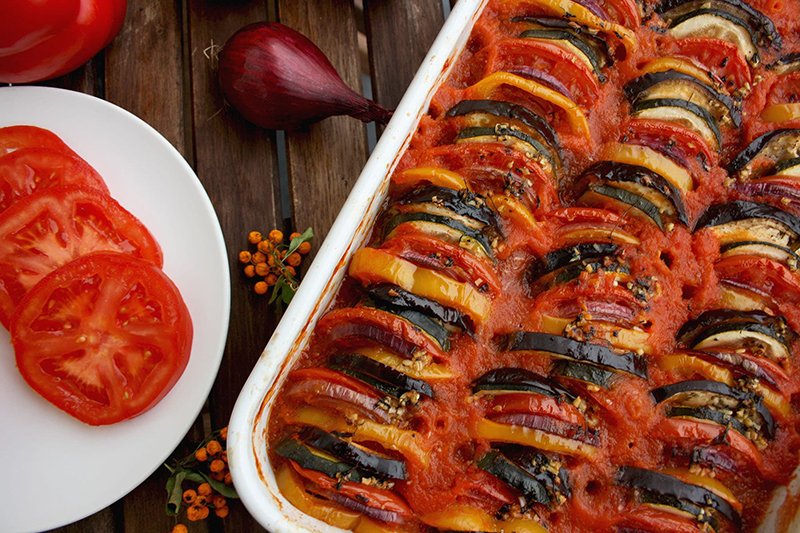 For an impressive dish that's both colorful and healthy, make this vegan ratatouille. The recipe, which includes a homemade sauce, might look complex at first glance. But it's actually quite easy—promise.
2. Vegan Risotto with Asparagus & Mushroom
Vegan, Gluten-free | Total time: 1 hour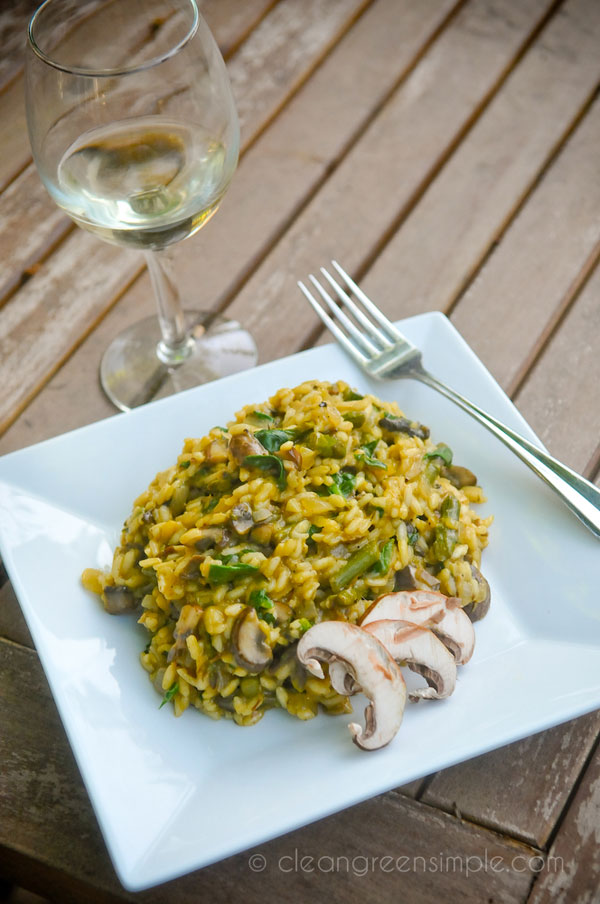 Risotto is the epitome of a romantic and comforting dinner. And with this vegan risotto with asparagus and mushroom, you can enjoy it without any dairy. It's creamy and wonderfully cheesy, thanks to vegetable broth and nutritional yeast.
3. Vegan Gnocchi in Vodka Sauce
Vegan, Gluten-free | Total time: 1 hour and 30 minutes
Like risotto, there's something so cozy about gnocchi. But if you don't eat eggs or dairy, traditional gnocchi is a no-go. That is, however, unless you make this amazing vegan gnocchi potato without eggs, dairy, or even white flour. Bonus: The recipe even features a homemade vodka sauce.
4. Air Fryer Mushroom Steaks
Vegan, Gluten-Free | Total time: 15 minutes
Looking for a hearty yet simple meal? Make these Air Fryer mushroom steaks in just 15 minutes. The recipe, which calls for just five ingredients, is perfect for a romantic meatless dinner.
5. Vegan Eggplant Parmesan
Vegan | Total time: 40 minutes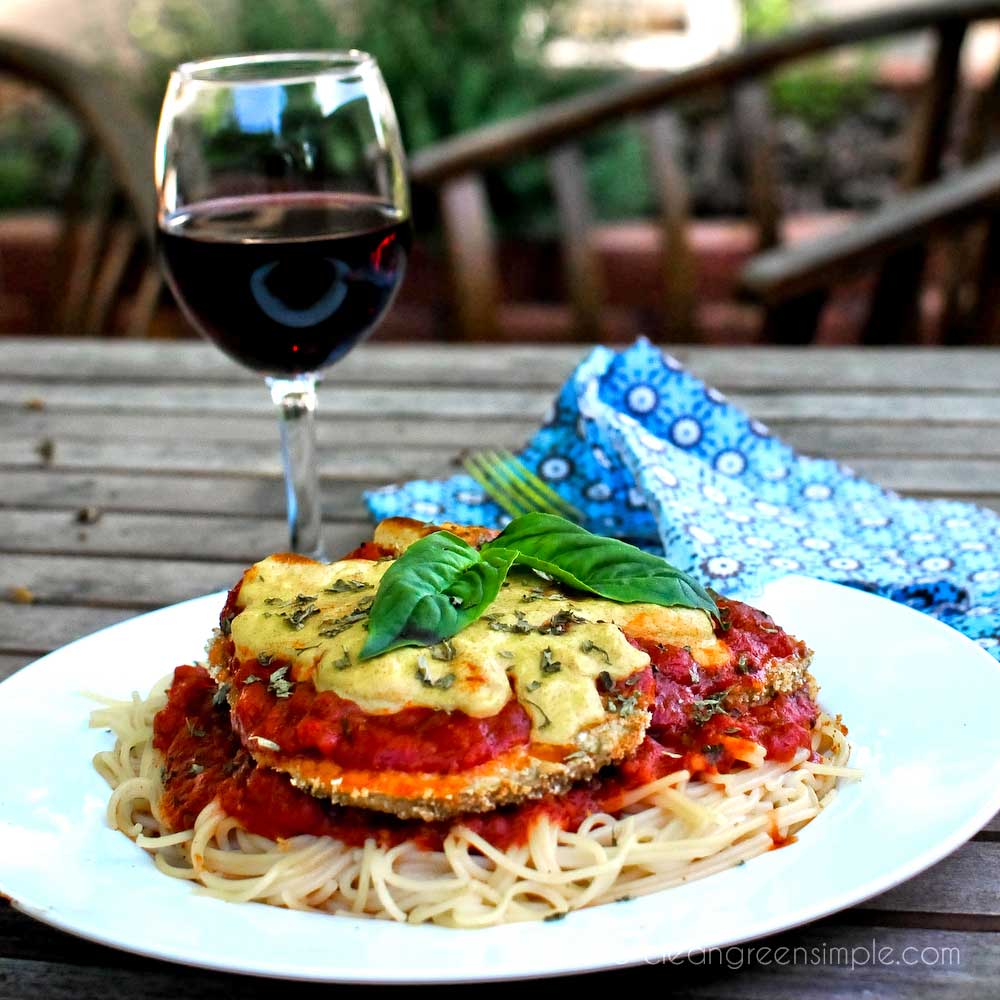 When it comes to meat-free dinners, eggplant parmesan is a classic choice. But you can also make it dairy-free by trying this vegan eggplant parmesan recipe. Top it off with a homemade cheeze made of non-dairy milk, tahini, and nutritional yeast. For a gluten-free option, simply use gluten-free breadcrumbs.
6. Vegan Beet Meatballs
Vegan, Gluten-free | Total time: 25 minutes
This Valentine's Day, turn beets into "beetballs" with this quick vegan meatball recipe. Not only does their pinkish hue fit the holiday, but they're delicious and healthy too. Stick toothpicks in them and serve with your favorite dressing.
7. Vegan Fettuccine Alfredo with Mushrooms
Vegan | Total time: 20 minutes
With just nine ingredients, you can make creamy vegan fettucine alfredo from scratch. Plus, it only calls for 20 minutes, so you can spend more time enjoying Valentine's Day dinner. Don't forget the garlic bread as well.
8. Thai Zucchini Noodles
Vegan, Gluten-free | Total time: 40 minutes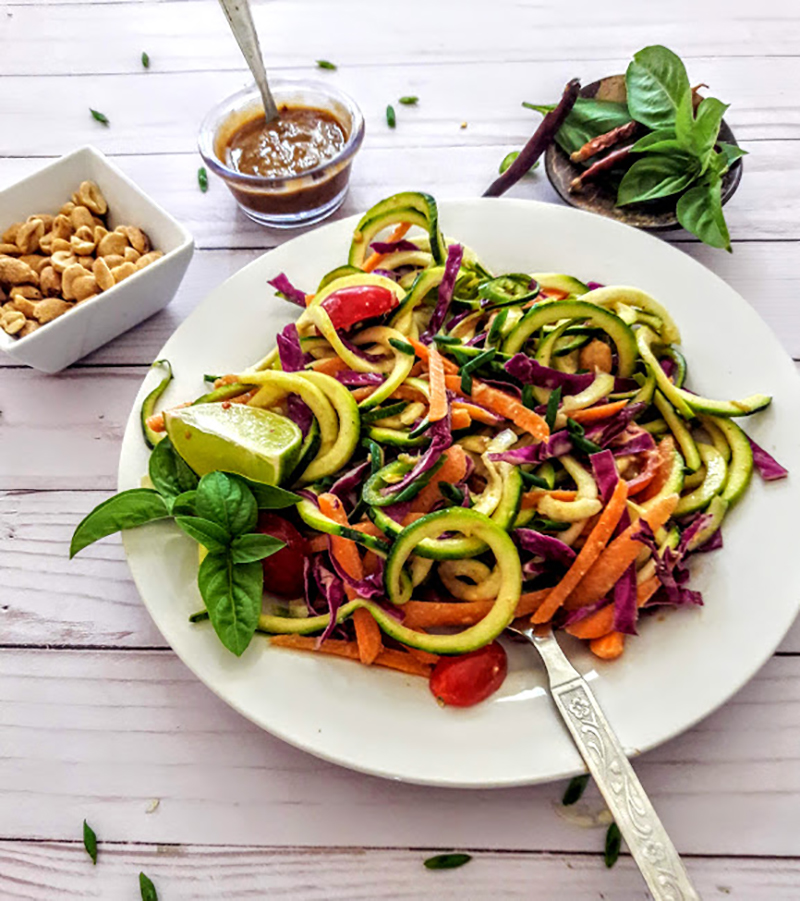 Put your spiralizer to good use and whip up this Thai zucchini noodle dish. In addition to the colorful veggie "pasta," it features a flavorful sauce made of peanut butter, coconut aminos, garlic, and lime juice. Yum!
9. Easy Homemade Vegan Sushi
Vegan, Gluten-free | Total time: 15 minutes
Looking for a unique take on Valentine's Day dinner? Team up with your date and make homemade vegan sushi together. It's an awesome way to make memories while learning something new. Once you're done, you'll have a tasty yet inexpensive meal.
10. Cauliflower Scampi in Lemon Garlic White Wine Sauce
Vegan | Total time: 30 minutes
Everything about this cauliflower scampi in lemon garlic white wine sauce makes us swoon. From the roasted cauliflower to the creamy pasta, it's an easy dinner that's sure to please. Top it off with vegan Parmesan, red pepper flakes, and fresh herbs like parsley.
11. Vegan Lemon Risotto
Vegan, Gluten-free | Total time: 35 minutes
You can never have to many risotto recipes in your arsenal. In this version, Arborio rice, vegan butter, and a generous dose of lemon juice come together to make a vegan lemon risotto. Top it off with lemon slices for a beautiful visual.
12. Lentil Pasta with Roasted Fingerlings, Baby Kale, and Crispy Garlic
Vegetarian, Vegan, Gluten-free | Total time: 50 minutes
If you're all about non-traditional pasta dishes, add this lentil pasta with roasted fingerlings to your Valentine's Day to-do list. It features nutritious sources of protein, carbs, and fat, making it wonderful balanced dinner. The original recipe is vegetarian as it includes feta cheese, but you can easily skip it for a vegan version.
13. Vegan Paella
Vegan, Gluten-free | Total time: 40 minutes
You can't beat a one-pan recipe like this vegan Caribbean paella. For starters, it's jam-packed with colorful vegetables like bell peppers and sweet potatoes. It's also flavored with spices like saffron, cinnamon, and thyme. Needless to say, it's worthy for Valentine's Day dinner.
14. Vegan Carbonara
Vegan | Total time: 40 minutes
Did you know it was possible to veganize spaghetti carbonara? Yes, it's true. Instead of using meat, cheese, and eggs, you can make a vegan-friendly version with ingredients like smoky tofu bacon and nutritional yeast. Garnish the finished vegan cabonara with parsley for a filling meal.
Romantic Vegan Recipe for Two
Planning a romantic dinner? We've compiled a list of the most romantic vegan dinner recipes for two. Enjoy!
Click stars below to rate, or leave a full review in the comments
Print
Pin Recipe
Ingredients
Eggplant

Risotto

Asparagus

Mushroom

Cauliflower

Kale
Instructions
Pick out your favorite recipe and enjoy a romantic evening!
Feature photo: